Bruno and Alfio Gritti are breeders of Mediterranean water buffalo who own and operate a sustainable farm and cheese dairy in Cologno al Serio, in the province of Bergamo in Lombardy, Italy. Since 2001, the buffalo have been grazing and producing the milk used to make Quattro Portoni's Blu di Bufala featured this month. The Quattro Portoni creamery makes more than 15 types of fresh, semi-seasoned, aged cheeses and yoghurt, all strictly produced with the milk from their herd of buffaloes.
We are truly excited to feature this aged buffalo milk cheese in The Rare Cheese Club. It is extremely rare to source an aged buffalo milk cheese. Therefore, you are in for a real treat. We have a great affinity for this offering from Quattro Portoni, the Blu di Bufala, and apparently so do quite a few others. It first caught our attention in 2012 when it won a super gold medal at the World Cheese Awards and then was runner-up for Best of Show with a score that was identical to that of the champion. It was also awarded a gold medal at the 2013 World Cheese Awards as well.
The first thing to note is that water buffalo have twice the butterfat of traditional cows, so the cheeses made from their milk have a lavish richness and creaminess to them. A semi-firm, three-month-aged cheese, Blu di Bufala is translucent in color with deep blue veining throughout the paste, offering a bold, full-bodied, distinctive and savory flavor profile. You will find it delightfully creamy, earthy, and slightly herbal with a classic blue flavor profile. It reveals a balance of sweetness and racy spiciness in the finish, piccante rather than dolce. The slightly tangy finish lingers nicely. We loved it!
The Blu di Bufala is perfect as a bolder-flavored selection on a cheese platter. We recommend briny olives, salty crackers, or a washed rind cheese as accompaniments, for a balance of flavors. This cheese will also pair nicely with a bold, red wine like cabernet sauvignon, as well as milk stouts and farmhouse ales.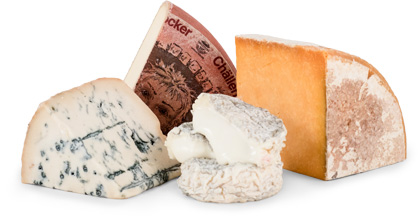 Experience International Variety
You might receive a Gaperon, originating in France during the 14th Century, an
authentic Lancashire by Ruth Kirkham, and an Italian Taleggio matured in the
caves of Valsassina…all in one shipment!
DISCOVER OUR TWO CLUBS