The natural border dividing France and Spain is the Pyrenees mountain range, the home of P'tit Basque. This semi-hard ewes' milk cheese is made on the French side of the Pyrenees in a region populated by the Basques, a people who have their own customs and their own unique language. Although the Basques live on both sides of the border, they produce this cheese on the French side. Amidst the breathtaking, rolling mountains of the Pyrenees, vast pastures, providing fertile grazing lands, stretch as far as the eye can see.
The French Pyrenees Mountain Range is one of very few regions still home to hundreds of small cheesemakers. While industrially produced cheeses have made major gains in the lowlands, there are still hundreds of small mountain cheesemakers left who stick to the same traditional methods established by their ancestors centuries ago. The herds of these artisans average just one to two hundred sheep. These are hand-milked and thus yield the shepherd, on average, only two or three ten-pound wheels a day. In addition to the low-yield, this is also a labor-intensive cheese. The curd is "cut", literally, by hand. The cheesemakers reach an arm into their kettle of warm curd, and ever so slowly, break it by hand into small pieces from which the final cheese will be formed. This ancient technique protects the gentle flavor of the finished cheese. This cheese is a far cry from what most Americans have gotten used to via our super markets!
Pyrenees cheeses are for those who appreciate subtle. They're lovely, smooth, subtle and fruity with a nice little bit of a nose. They're the kind of cheese you would eat every day for lunch (assuming you lived in the Pyrenees) or with a simple dinner and a glass of dry white wine. Made from pure ewes' milk, P'tit Basque has a rather dry texture and an earthy, nutty flavor. Expect numerous floral and sweet caramel notes.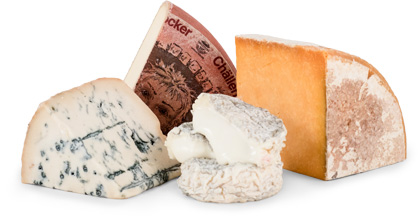 Experience International Variety
You might receive a Gaperon, originating in France during the 14th Century, an
authentic Lancashire by Ruth Kirkham, and an Italian Taleggio matured in the
caves of Valsassina…all in one shipment!
DISCOVER OUR TWO CLUBS