Préféré de nos Montagnes is a modern version of a classic French brie cheese named Reblochon, which is not available in the United States because it is made with raw milk and prohibited from being imported. Both Préféré de nos Montagnes and Reblochon are produced in the Jura Mountains of the Auvergne-Rhône-Alpes region of France, in Haute-Savoie. Thus, Préféré de nos Montagnes is essentially a Reblochon-like brie made with pasteurized cow's milk in lieu of raw. Thankfully, this allows us to share this wonderful style of cheese with you.
Our selection this month by cheesemaker Hansruedi Gasser is soft and supple, with a bloomy, washed rind and aged one to two months prior to release. The milk for this cheese comes from the second milking of the day, which is more concentrated and intensely flavored, thus yielding a richer cheese. The rind of this Préféré de nos Montagnes has a thin layer of white, fluffy mold with little specks of orange peeking through. The paste is delicately creamy and moist, offering a buttery, rich, and velvety consistency on the palate along with a pungent aroma and a nutty flavor profile of almonds, hazelnuts, and pecans. It will melt wonderfully in fondue and will also be delicious slathered on crusty, French baguettes. Its petite size makes it a perfect addition to your cheeseboard or a fresh fruit and nut platter. While Préféré de nos Montagnes traditionally accompanies Beaujolais, because it is made in the Jura Mountains, it is a natural pairing for cool-climate wines from that region, including the area's sparking wine, Crémant de Jura, as well as Melon d'Arbois (Chardonnay), Pinot Gris, Pinot Noir, Poulsard, Savagnin, and Trousseau. Other suggested beverage pairings are ales such as Saison, Bière de Garde, Lambic, and Sour beers, as well as rye whiskey.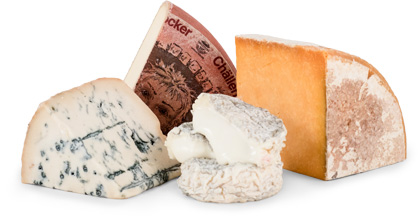 Experience International Variety
You might receive a Gaperon, originating in France during the 14th Century, an
authentic Lancashire by Ruth Kirkham, and an Italian Taleggio matured in the
caves of Valsassina…all in one shipment!
DISCOVER OUR TWO CLUBS