Emmi Roth has been synonymous with quality since its inception in 1863 in Niederbipp, Switzerland, when Oswald Roth founded O. Roth & Cie Switzerland. The second generation, son Otto Roth, moved to New York in 1911 to establish Otto Roth & Company, a subsidiary of O. Roth & Cie, to import Swiss cheese to the United States. After decades of commercial success, in 1991, Roth began making its own cheeses in Green County, Wisconsin, fondly nicknamed "Little Switzerland." When Roth Käse USA opened for business, it was the United States' first cheesemaking facility to utilize a copper vat to produce its Grand Cru. Roth also reintroduced wooden boards for aging. Today Roth and its dozen or so cheesemakers source rBST free milk from Monroe, Wisconsin's Rolling Hills Dairy Producers Cooperative, comprised of 152 family farms – with an average herd size of 100 – all within a 60-mile radius of the creamery to create award-winning cheese, such as this month's selection, Roth's Prairie Sunset, whose tagline is "The color and character of the Midwest."
The inspiration for the creation of this cheese was observing a stunning Wisconsin sunset while returning home from a long day of work at the creamery. Roth describes Prairie Sunset as "embodying the color and soul of the American Heartland," and it is indeed its brightly hued orange paste that catches one's attention. A "cheddar-gouda" hybrid made from pasteurized, cultured cow's milk and aged for four months, it is gluten free, rBST free, and vegetarian. Its paste is dense, smooth, and chewy. On the palate, Prairie Sunset is reminiscent of butter – a fusion of salinity and creamy sweetness with a touch of gouda nuttiness. It is a great addition to a cheeseboard and as an accompaniment to apples, grapes, salami, and summer sausage. Shred Prairie Sunset on a variety of foods like soups, salads, potatoes, chili, and burgers. It also makes a perfect grilled cheese sandwich and macaroni and cheese. Roth recommends it as a topping for their Cheesy BBQ Baked Chicken Wings recipe. Pair Prairie Sunset with barrel fermented Chardonnay, Pinot Noir, and amber or pale ales.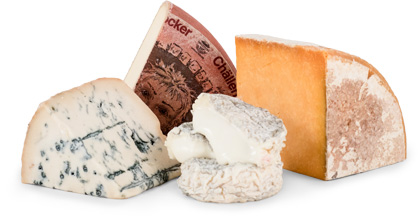 Experience International Variety
You might receive a Gaperon, originating in France during the 14th Century, an
authentic Lancashire by Ruth Kirkham, and an Italian Taleggio matured in the
caves of Valsassina…all in one shipment!
DISCOVER OUR TWO CLUBS