The Giacomini family has been passionate about farming for over 100 years, starting with Tobias Giacomini who left northern Italy in 1904 for a new beginning in northern California. After a couple of moves, the family eventually settled in Point Reyes, California in 1938. In 1954, Tobias's grandson, Bob, and his new bride Dean, bought land just up road from his family and started their own dairy farm with just 150 cows. Over the years, they managed to raise the herd to over 500 cows on 700 acres, and raise four beautiful daughters, Karen, Diana, Lynn, and Jill – also known as the Milkman's Daughters.
When Bob realized that as a family they needed to decide what to do with the family farm, he called his girls back home. According to the family, their goal was "to create something that would combine our mutual appreciation of farm fresh food, our love for the land where we were raised, and our desire to keep our family's legacy alive for future generations." After many hours of research, they learned that there weren't any classic blue cheeses made in California, so they decided to learn everything they could about cheesemaking. In August 2000, the first wheels of Original Blue were made, becoming California's only classic style blue cheese. Over the next few years, the Giacominis hired a Master Cheesemaker, invested in new equipment, and perfected their blue cheese recipe. Additionally, they've added a few more cheeses to their line-up, but the Original Blue has remained Point Reyes Farmstead Cheese Company's flagship cheese. With that said, we should also add that during this time, the family was only being paid in cheese!
What makes this award winning cheese unique is the milk that is used. As a true farmstead cheese producer, they not only use Grade A milk from the herd that they have raised since birth right on the property, but the pastures on their farm also produce the certified-Organic grass that accounts for the majority of the herd's diet, keeping the cows happy and healthy. Since they are a true farmstead, this gives them quality control from start to finish all while giving their cheese a unique flavor that you will not find anywhere else. In fact, Point Reyes Original Blue won a sofi (specialty outstanding food innovation) for Best Cheese or Diary Product at the 2011 Fancy Food Show in Washington, DC!
The Point Reyes story was highlighted on The Today Show on July 25th, 2013. To watch the story by Jane Pauley, pull up www.pointreyescheese.com/reinventing-family-farm
Point Reyes Original Blue is all natural and made with raw cow milk, as well as being Kosher-certified, gluten-free, and made with microbial (vegetarian) rennet. Even if you're not a fan of blue cheeses, Point Reyes Original Blue's sweet, buttery and fresh milk flavor will sure win you over. Being a versatile cheese, it's great crumbled in salads, added to sauces and dips, and will be amazing on your cheese board. It will spread easily on a baguette or crackers, or try it with stone fruits, berries, figs, or honey. It will also pair well with sweeter wines and full-bodied reds, such as a Syrah, Cabernet Sauvignon, and vintage ports. As always, allow it to come up to room temperature before enjoying to get the full flavor.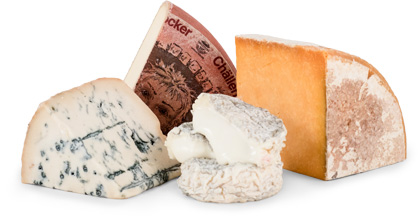 Experience International Variety
You might receive a Gaperon, originating in France during the 14th Century, an
authentic Lancashire by Ruth Kirkham, and an Italian Taleggio matured in the
caves of Valsassina…all in one shipment!
DISCOVER OUR TWO CLUBS