The second oldest cheese factory in the United States, Plymouth Artisan Cheese, has been producing cheeses since 1890. While this is an amazing fact in itself, it gets even better. This cheesemaker still occupies the same building, now owned by the state of Vermont, as it did in 1890 when it was built by John Coolidge—you guessed it, the father of Calvin Coolidge, our 30th President. The elder Coolidge, who was a dairy farmer, created Plymouth Cheese as a means of not wasting fresh milk, by taking the extra milk and using it to make cheese, a dairy product with a longer shelf life. In doing so, he chose to use the same granular curd recipe that the first European settlers brought with them to the New World, rendering it the closest thing consumers can find to the cheeses America's first farmers produced in the 1600s. In fact, Plymouth Artisan Cheese may be the only cheese producer in the United States making original American heritage cheese. Under the helm of Vermont native and cheesemaker Jesse Werner, Plymouth continues to make history with this month's selection, the award-winning and patriotically named Red, White & Blue, which brought home the 2015 bronze medal in the 2015 Big E Cheese Competition Big Blue category and a second place ribbon in the 2014 American Cheese Society's Blue Vein Natural Rind category. Should you find yourself in Plymouth Notch, Vermont, Plymouth Artisan Cheese is open daily: 10:00 a.m. – 4:00 p.m. in the winter and 10:00 a.m. – 5:00 p.m. in the summer. A creamery visit is comprised of tastings, a museum, and a self-guided tour of the production building, where visitors will view cheesemaking in action.
Red, White & Blue is a semi-soft blue cheese made from raw cow's milk and aged three to four months prior to release. Blue cheese styles include dolce (sweet) or piquant, and this blue falls into the latter camp, a refreshing surprise and deliciously spicy delight. It is both luxuriously creamy and clean on the palate. As soon as the paste touches one's tongue, it almost seems to evaporate, yet the layers of flavor linger longingly after. Recommended food pairings include a honey drizzle – a less sweet style of honey such as a Chestnut Honey from Italy's Agrimontana – as well as fresh figs, dates, dark chocolate, or berry preserves. A tangy blue cheese such as this calls for sweet wines like German Riesling Beerenauslese, Pedro Ximénez Sherry, Recioto, Sauternes, ice wine, and vintage port.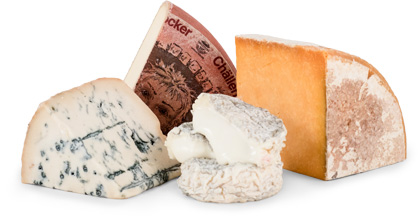 Experience International Variety
You might receive a Gaperon, originating in France during the 14th Century, an
authentic Lancashire by Ruth Kirkham, and an Italian Taleggio matured in the
caves of Valsassina…all in one shipment!
DISCOVER OUR TWO CLUBS