The second oldest cheese factory in the United States, the Plymouth Cheese Factory, has been producing unique artisan cheeses for over 125 years. If you think that is cool, it gets better. This cheesemaking company still occupies the same building, now owned by the state of Vermont, as it did in 1890 when it was built by John Coolidge, the father of Calvin Coolidge, our 30th President. Therefore, this cheese has some serious pedigree.
John Coolidge was a dairy farmer and he used the same recipe that the first European settlers brought with them to the New World to create Plymouth Cheddar. It is the closest thing you will be able to find to resemble the cheeses produced by America's founding dairy farmers in the 1600s. You are about to taste American cheesemaking history and we are convinced that you are going to love it.
Although cheesemaker Jesse Werner is making quite a few outstanding cheeses, we simply had to share their flagship cheese with you. It is aged for 12 months and hand dipped in a bright red wax, just as the early settlers did. The cheddar flavor is an outstanding balance of sweetness and savory flavors. Many cheddars today are being made sweeter and sweeter, but this cheese is a step away from that trend. We feel that Werner has captured the perfect balance of acidity and an umami flavor profile. All at once, you will experience noticeable, broth-like, savory flavors; bold cheddar tang; and a gentle, fruity sweetness.
This historic cheddar cheese is versatile. We suggest that you serve it with salami or fresh fruits like apples or grapes, crumble it over warm pie, use it to make mac and cheese, or add to a cheese tray and let it speak for itself. This cheese is fantastic with beers like hoppy India Pale Ales and India Pale Lagers. The savory, umami profile lends itself to a pairing with cool-climate, earthy pinot noir. Other pairings include vintage sparkling wines; reds like cabernet sauvignon, malbec, merlot, sangiovese, syrah, tempranillo, and zinfandel; and even Jerez-Xérès-Sherry styles like Amontillado and Palo Cortado.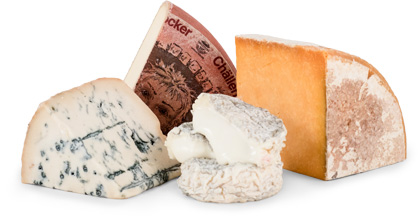 Experience International Variety
You might receive a Gaperon, originating in France during the 14th Century, an
authentic Lancashire by Ruth Kirkham, and an Italian Taleggio matured in the
caves of Valsassina…all in one shipment!
DISCOVER OUR TWO CLUBS