The Italian Alps have been known for their stunning picturesque views and local traditions for centuries, and, until recently, Piave cheese was a local cheese that never made it out of the region. Named after the Piave River, Piave cheese originated in the Belluno Region in the Dolomite mountain range that is roughly halfway between the Austrian border and Venice. The area is perfect for dairy farming due to the lush pastures in the spring and summer from the cool and snowy winters. Piave cheese has been around for centuries but never had a name, nor was known outside the region.
Denominazione de Origine Protetta or P.O.D., Protected Designation of Origin) certification, meaning the only "official" Piave is produced in the Dolomites area, in the province of Belluno, at the northernmost tip of the Veneto region. >

A hard, cooked curd cheese, Piave is produced in five versions depending on the length of maturation, which can range from 20 days to over 18 months. Piave Vecchio, this month's selection, is aged for at least 6 months to generate a wonderfully strong, fruity flavor without sharpness. The cheese is produced primarily from indigenous Italian cattle breeds, including Bruna Italiana, Pezzata Rossa Italiana, and Frisona Italiana. These cows roam the mountain pastures in the warmer months, grazing on the natural grassy meadows.
Similar in look and texture to Parmigiano Reggiano, Piave Vecchio has fruity notes upfront with a bright and buttery finish which makes it an extremely versatile cheese. To amp up the flavor of any dish in which you'd normally add Parmigiano Reggiano, try Piave Vecchio in its place. Perfect for grating, add it to salads, pastas, soups, or anything you can think of. It's also great for snacking and will do wonders on your cheese board. We also found that it pairs well with amber and nut brown ales as well as IPAs, or, if you prefer wine, try it with a zinfandel, full chardonnay, or a medium red like merlot. As always, for full flavor, make sure your cheese is at room temperature.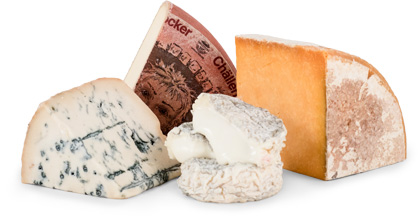 Experience International Variety
You might receive a Gaperon, originating in France during the 14th Century, an
authentic Lancashire by Ruth Kirkham, and an Italian Taleggio matured in the
caves of Valsassina…all in one shipment!
DISCOVER OUR TWO CLUBS