The island of Sardegna (Sardinia), located off the western coast of Italy, is primarily known for its warm, sunny climate, innovative food culture, and its sheep's milk cheese, Fiore Sardo. However, in the 1960s, Capra Sarda goats were introduced to the island. The breed produces a limited amount of milk six months a year. From this small dairy production comes a unique Caprino, a goat's milk cheese, named Pantaleo. We are truly fortunate to have secured this rarity just for this month's shipment.
Pantaleo's cheesemaking process is like that of Fiore Sardo – the goat's milk cheese is aged onsite for one month, then in cellars a minimum of three months – which tames its rustic gaminess. The result is a semi-firm, pasteurized cheese. The combination of the goats' diet and the cheesemakers' talents yields one of the most crave-worthy cheeses you will ever taste.
Pantaleo's rind is a pale yellow. Inside is a firm, crystalline ivory paste that crumbles easily when sliced. On the nose, it shows an inviting juxtaposition of savory herbs and warm, melted caramel. At first the flavors are gentle and mild on the palate, but they intensify midway through. There is pronounced nuttiness and salinity enhanced by lively, bright citrus and floral notes. The finish is clean and pleasantly spicy with notes of white pepper.
Pantaleo has a salty-sweet duality that allows it to pair with several foods like fresh shellfish – think crab, oysters, and shrimp – as well as pâté, prosciutto, and other Italian charcuterie. The flinty texture makes it an ideal grating cheese for risotto, pasta, salads, and warm vegetables. It is also a welcomed enhancement to cheeseboards and a wonderful accompaniment to fresh fruit. This cheese is also addictive on its own.
We recommend you serve Pantaleo with Vermentino di Sardegna, Vermentino di Gallura, or Malvasia – or a dry red like Cannonau di Sardegna (Grenache or Garnacha), Carignano del Sulcis (Carignan), or Cagnulari (Graciano). Vernaccia di Oristano – Sardinia's sherry-like fortified wine – will also complement the complex and robust Pantaleo. If you cannot find these varieties, unoaked Chardonnay, Pinot Grigio, and Chianti (Sangiovese) will also pair well.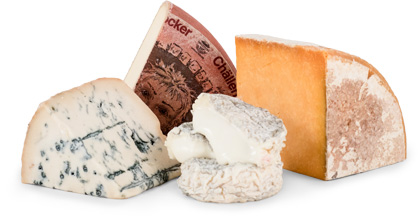 Experience International Variety
You might receive a Gaperon, originating in France during the 14th Century, an
authentic Lancashire by Ruth Kirkham, and an Italian Taleggio matured in the
caves of Valsassina…all in one shipment!
DISCOVER OUR TWO CLUBS