Ossau Iraty (OH-so ear-AH-tee) may not be a well-known cheese but this Basque gem is on the list of our favorites and we're sure that it will soon be one of yours. Known as the grandfather of Basque cheeses, some say that Ossau Iraty was one of the first intentionally made cheeses in Europe, possibly dating back to 3,000 BC! While the exact date is debatable, many agree that the recipe and technique hasn't changed in centuries, which proves that the cheesemakers are clearly doing something right! Hailing from the Basque region of France, this cheese is named for the two picturesque regions in the Southwestern Pyrenees Mountains – Ossau located in the valley of the Bearn and Iraty in the beech forests of the Pays Basque. Both known for their stunning beauty, the Ossau Valley and Iraty Forest are popular destinations for outdoor and nature enthusiasts during all four seasons.
This mouthwatering cheese is made from 100% sheep's milk and the milk comes from the famed brebis sheep that graze in the valleys of Ossau and Iraty. Even though this cheese may be new to you, these small creamy-brown sheep have helped make several well-known cheeses such as the famed Roquefort, P'tit Basque, and more. Ossau Iraty is ivory in color with a natural dry thick rind that can range from an orangish yellow to a dark brownish gray. Ossau Iraty obtained its AOC (Appellation d'Origine Contrôlée, which is French for Controlled Designation of Origin) in 1980 and was granted PDO (Protected Designation of Origin) at the European level in 1996.
Aged for approximately eight months, Ossau Iraty can have a pungent gamey aroma but is full of flavor that melts in your mouth. This semi firm cheese has a slightly oily texture with a savory and sweet nutty flavor with hints of figs, hazelnuts, and olives. It's a perfect cheese to accompany your cheese board that is great on its own, grated on salads, or paired with hoppy beers or big, balanced reds like Pinot Noir and Zinfandel. As always, make sure to bring this delightful cheese up to room temperature to bring out the full flavor.
If you haven't joined our Microbrewed Beer of the Month Club, you are missing out on some excellent microbrews that complement our cheese selections masterfully. Check out our Microbrewed Beer of the Month Club at www.monthlyclubs.com.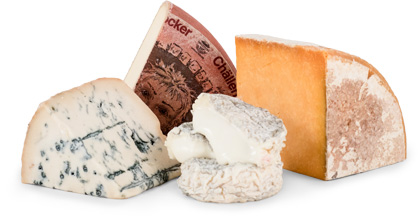 Experience International Variety
You might receive a Gaperon, originating in France during the 14th Century, an
authentic Lancashire by Ruth Kirkham, and an Italian Taleggio matured in the
caves of Valsassina…all in one shipment!
DISCOVER OUR TWO CLUBS