We are thrilled to offer you the award-winning Old Québec Vintage Cheddar, a cheese made in Québec, Canada, then cured in Lancaster County, Pennsylvania.
Making a great cheddar cheese is part science and part art, requiring the cheesemaker to constantly adjust his or her craft due to milk variations caused by climate, feed, and pasture changes. Old Québec's cheesemaking team handles such differences by making this cheddar in individual vats, where the natural flavors of the milk come to life. The unpasteurized raw milk is heat treated to remove bacteria while allowing the healthy lactic bacilli to remain. The latter creates the bright, acidic flavors associated with sharp cheeses like this one. This process, combined with low moisture curing, yields Old Québec's distinctive depth of flavor.
As one knows, quality of aged cheeses cannot be rushed. Much time and attention are given to this cheese throughout its maturation, making it one of the most unique cheeses you will ever taste. Following the cheesemaking process, Old Québec rests for nine to twelve months, then it is graded on color, texture, aroma, and flavor. Only the best vats are chosen to be exported to Lancaster County, Pennsylvania, for additional aging. Once the cheese reaches two years of aging, it is graded again for quality. The highest scoring batches are aged another year. Thus, this cheese is cured a minimum of three years and is only sold when it reaches the highest standards. The actual age of Old Québec Vintage Cheddar may vary between three and four years – or longer. Occasionally this cheddar is aged up to 15 or 20 years.
Old Québec Vintage Cheddar has a firm, ivory-colored paste that is crumbly with salt-like crystals. It's all at once buttery and sweet with notes of tangy fruit and creamy caramel. It is robust and deliciously tangy. Suggested beverage pairings include stout beers, bold red wines like Cabernet Sauvignon and Rioja (Tempranillo), or a higher-acid white like Sauvignon Blanc. Old Québec will enhance your fruit, nut, cheese, and charcuterie boards. It is also an ideal melting cheese for sandwiches, as well as grating atop salads and vegetables.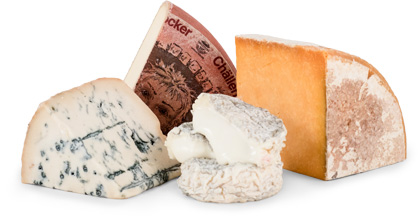 Experience International Variety
You might receive a Gaperon, originating in France during the 14th Century, an
authentic Lancashire by Ruth Kirkham, and an Italian Taleggio matured in the
caves of Valsassina…all in one shipment!
DISCOVER OUR TWO CLUBS