Obere Mühle, located in the Bavarian Alps, is a comprehensive destination that includes an award-winning restaurant in a 17th century sitting room, an antiques market, a hotel, and the cheese dairy, Käserei Obere Mühle, which is located in the foothills' town of Bad Hindelang, and open to the public for visits daily. The dairy sources high-quality organic milk from the pasture-grazing cows of five local mountain farmers, members of the Obere Mühle Cooperative. Cheesemaker Arturo Chiriboga, who is originally from Ecuador, moved to Europe to learn cheesemaking as a young adult. During his studies, he met and fell in love with a girl from Bavaria, which is what led him to a career in cheesemaking at Käserei Obere Mühle. It is here where Chiriboga now makes 14 types of cheeses, including Chiriboga Blue and Alpine-style cheeses, including this month's selection, his Sennerkäse with Fenugreek.
Chiriboga's Sennerkäse is a traditional, semi-soft, German, Alpine cheese made from raw, organic cow's milk and aged for six months, but made with the intriguing addition of yellow Eastern Indian fenugreek seeds. The inclusion of the fenugreek seeds is a cultural homage that celebrates the blue fenugreek that appears in decorations throughout the state of Bavaria in southeastern Germany. On the nose and palate, this creamy, buttery cheese shows herbal and grassy notes, toasted grain flavors, and slight salinity, all of which are surprisingly complemented by the nuttiness and maple-syrup sweetness of chewy fenugreek seeds which are dotted throughout the cheese's springy and supple texture. The Sennerkäse on its own is a beautiful addition to a cheese platter, as well as a wonderful melted topping for potatoes, vegetables, and meats. Pair this with German wines such as Riesling or Gewürztraminer, or a Bavarian-style beer like Helles, Pils, or Weissbier.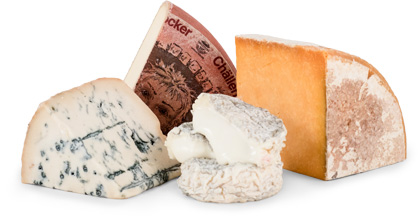 Experience International Variety
You might receive a Gaperon, originating in France during the 14th Century, an
authentic Lancashire by Ruth Kirkham, and an Italian Taleggio matured in the
caves of Valsassina…all in one shipment!
DISCOVER OUR TWO CLUBS