Moro Formaggi was founded by Luigi Moro just after the end of World War II, after working with his sons to create a milk collection center with local farmers to facilitate the sale of their milk in 1930. Moro's current owner, Sergio Moro, is Luigi's grandson.
The word 'ubriaco' translates literally to 'drunk' and was incorporated into the name of this cheese when local Treviso farmers and cheesemakers, unable to afford olive oil to preserve their cheeses, began to dip wheels into fermenting fruit and wine. Sergio is widely known for his Ubriaco cow's milk cheeses which he soaks in various beers and wines. To make Ubriaco Pinot Rosé, he soaks his cheese wheels in La Jara Pinot Grigio rosé, a dry Italian sparkling wine, for nearly two months. He then soaks rose petals in the same wine, presses them into the rind and ages them for 6-9 months, making for a stunning and aromatic cheese.
This Italian, semi-soft, cow's milk cheese simply aches to be seen as well as eaten. The rosé wine gives this cheese a distinctive violet-colored rind. As you would expect, it has a mild pleasant floral aroma. The rosé notes also translate into its mild, fruity and sweet flavor profile, one that lacks the sharp bite that some alcohol-soaked wines present. We'd suggested showing off this unique cheese's appearance by adding it to a cheese board. Naturally, it pairs well with rosé wines.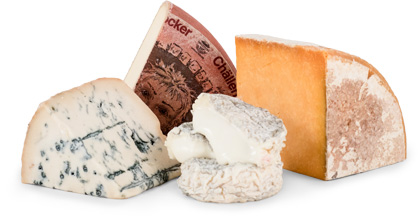 Experience International Variety
You might receive a Gaperon, originating in France during the 14th Century, an
authentic Lancashire by Ruth Kirkham, and an Italian Taleggio matured in the
caves of Valsassina…all in one shipment!
DISCOVER OUR TWO CLUBS