We are delighted to share with you this month the wonderful, not-to-be-missed Montegrappa. It is a cheese with a storied history, having been made for centuries at the bottom of the 5825-foot Mount Grappa in the province of Treviso, in the Veneto region of Italy between the Venetian plains and the northern Alpine region, not far from the village of Bassano del Grappa. It shares its heritage with Asiago and Montasio DOP cheeses, whose farmers' cooperative decided to create the Montegrappa as a comparable, yet milder and sweeter alternative.
Montegrappa is a semi-hard, pasteurized cows' milk cheese made in 25-pound wheels. In a similar production style to the aforementioned Asiago and Montasio cheeses, the wheels are gently pressed to expel more whey, which results in a dense texture and a long shelf life, then aged for eight to ten months prior to release.
Visually, the Montegrappa is a creamy ivory color. The mouthfeel is pliable and chewy, yet also crumbly. Often likened to an aged cheddar, Montegrappa exhibits mild, but multilayered flavors of rich, browned butter, toasted nuts, and a delicate caramel sweetness on the finish. Enjoy this cheese on its own as part of a cheeseboard or Italian charcuterie platter, or shaved or grated on pastas, roasted vegetables, salads, or any dish calling for a smattering of cheese as a finish. Montegrappa is also fantastic as a melted cheese – as a fondue for dipping, a decadent and comforting macaroni and cheese dish, or as topping for burgers, hot pastramis, or Ruebens. Because of its diverse palette of mild flavors, Montegrappa pairs wonderfully with a variety of wines – especially the wines from Treviso such as Prosecco de Conegliano Valdobbiadene DOCG and Colli Asolani Prosecco DOCG – as well as lighter and fruitier whites and reds of Veneto, Pinot Grigio, Soave, Valpolicella, or Bardolino. For non-wine drinkers, try Montegrappa with a hard cider, pilsner, or an amber lager.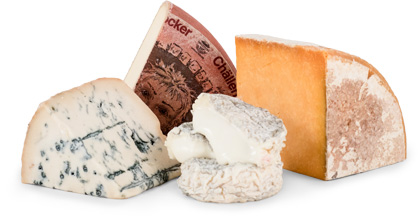 Experience International Variety
You might receive a Gaperon, originating in France during the 14th Century, an
authentic Lancashire by Ruth Kirkham, and an Italian Taleggio matured in the
caves of Valsassina…all in one shipment!
DISCOVER OUR TWO CLUBS