Our first featured native Italian cheese, Montasio, derives its name from the Montasio mountain range in the Friuli region north of Venice in Italy. It was originally produced in the 13th century by Benedictine monks at their monastery in the Giulia Alps. Today, Montasio is widely produced throughout the Friuli region in the northeast corner of Italy. It's made, of course, in compliance with precise requirements. The production area is limited to Friuli and East Veneto in the provinces of Belluno and Treviso, and to some areas of Padua and the Venetian provinces. But the wonderful characteristics of this product that date back to those industrious monks have been preserved for all to enjoy. The branding of the cheese with the trademark of the Consorzio per la Tutela del Formaggio Montasio (Consortium for the Protection of Montasio Cheese) guarantees its origin, as well as compliance with all the characteristics stipulated in the production regulations. The Montasio consortium's trademark is stamped on the upper crust. This assures that quality methods and traditions have been met. Though originally produced with sheep's milk, it's now made with fresh cow's milk and the progressive transformation process is closely monitored. Montasio is enjoyed by all ages because it is so easy to digest and, therefore, is especially suitable for children and elderly people. It's always delicious whatever its age. Montasio is great when it's still fresh, as well as after maturing for only two months. It's scrumptious when it has matured from five to ten months, and it's everyone's favorite when it has achieved full maturity after ten or more months.
When the cheese is fresh, the taste is mild and delicate, and the color is white. The texture is compact with an even oscillation, and the rind is smooth and flexible. As the cheese matures, it becomes grainy and crumbly, and the rind dries and darkens. Its flavor becomes mellow and fruity with a full-flavored finish, and its color slowly turns to a pale, straw-yellow. Typically, you will find this cheese served as an eating cheese with crusty bread. You can also shred it on pasta dishes, serve it in omelets, or use it to make sauces and fondue.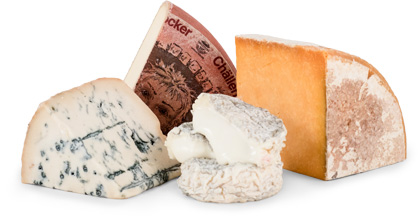 Experience International Variety
You might receive a Gaperon, originating in France during the 14th Century, an
authentic Lancashire by Ruth Kirkham, and an Italian Taleggio matured in the
caves of Valsassina…all in one shipment!
DISCOVER OUR TWO CLUBS