Originally from Pennsylvania, Mennonites Rufus and Jane Musser moved to Southeast Iowa in 1992 to begin dairy farming. In 2006 with the help of their three sons, Junior, Galen, and Mark, the Musser family joined forces with the local Amish community and start Milton Creamery. Even though Mennonites and Old Order Amish are different, they share many of the same values including hard work, ingenuity, and simple living. With these shared common values it was easy for them to work together as dairy farmers and cheesemakers but today Milton Creamery is solely owed by the Musser family with only a few outside employees.
All the milk used for the cheese is from local Amish dairy farmers with each herd limited to about sixty-five cows. Simple dairy farming creates the pure and rich milk that is produced with no artificial growth hormones like rBGH and rBST. Rufus and Jane's son, Galen, has had a passion for cheese-making since he was young and has been in charge of cheese production since he was sixteen years old. In fact, when he was just seventeen, Galen submitted his take on cheddar, Prairie Breeze™ which you have in your shipment today, and won Best of Class in the Open Hard category at the U.S. Cheese Championship in 2009. In addition to that award, Prairie Breeze is a four time Blue Ribbon winner from several competitions including the American Cheese Society in 2009 and 2011 and the World Cheese Contest in 2010.
Sweeter than a typical cheddar, Prairie Breeze is a twist on a well-aged white cheddar that is aged for a minimum of nine months. Made with vegetable rennet and no color added, this cheese is creamy yet crumbly with an added crunch from the calcium that develops during the aging process. Extremely versatile, try this cheese grated on salads or soups, in mac and cheese, and on cheeseburgers or sandwiches. Additionally, it will shine on its own on your cheese board. As always, make sure Prairie Breeze comes up to room temperature before serving.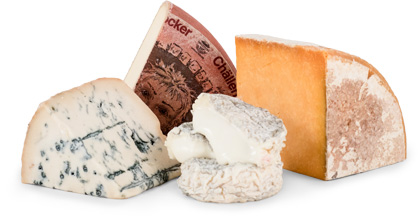 Experience International Variety
You might receive a Gaperon, originating in France during the 14th Century, an
authentic Lancashire by Ruth Kirkham, and an Italian Taleggio matured in the
caves of Valsassina…all in one shipment!
DISCOVER OUR TWO CLUBS