Great wines are geographically protected – like Castilla y León in Spain – primarily known for Tempranillo – where there are rules that ensure consistent high quality. From this same region comes one of this month's cheese selections, the award-winning Marcos Conde Castellano IGP Viejo, which finally received IGP status – Indicación Geográfica Protegida (Protected Geographical Indication) – in 2020 after being made for centuries, with its origins dating back to the Bronze Age. Spain makes about 85% of the world's sheep's milk cheese and Queso Castellano is one of its most famous. The cheese is sold at different levels of maturation, from a minimum of 30 days, to 3 ½ months to reach "curado" (cured) status, 6 months to reach "viejo" (mature) status, to over 9 months to reach "añejo" (vintage) status.
Our Castellano comes from Queserías de Zamora, which was founded more than seven decades ago and is run by a third generation cheesemaking family. Today, sisters Luisa (cheesemaker) and Laura (marketing/sales) lead the family business which they took over from their father, Señor Antonino Marcos Conde, purchasing milk from local farmers and following traditional cheesemaking and aging techniques.
With milk coming from specific sheep breeds – Assaf, Castellana, Churra – the Marcos Conde Castellano Viejo is pasteurized, and the resulting cheese aged for six months. When you receive Castellano, you will see it has a natural rind with a zigzag pattern thanks to the curds being drained in special plastic hoops. Because of this, it is known as a "hooped cheese."
This Castellano is creamy ivory in color and flaky in texture with golden edges near the rind. The paste is semi-hard, yet it can be melted quickly and easily. Like wine, Castellano should be removed from the refrigerator at least 20 minutes before serving to allow it to come to life. As it warms, it becomes richer. It reveals an irresistible combination of savory, salty, and sweet flavors like browned butter, butterscotch, caramel, and warm roasted nuts. When melted, it is like gooey butter – oh so decadent. Castellano is great on its own or as part of a charcuterie and cheese platter, but it is also a seriously delicious upgrade to grilled cheese sandwiches and burgers. It is a natural pairing for bold Spanish red wines like Tempranillo and Garnacha and beers like brown ales and porters.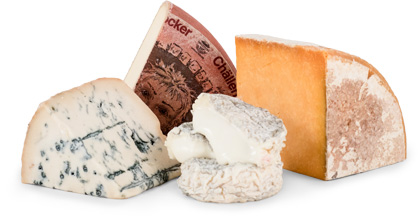 Experience International Variety
You might receive a Gaperon, originating in France during the 14th Century, an
authentic Lancashire by Ruth Kirkham, and an Italian Taleggio matured in the
caves of Valsassina…all in one shipment!
DISCOVER OUR TWO CLUBS