In the early 1990s, Pierluigi Sini wanted his family's Italian cheeses to be sold in the United States. It was during this time that he met Michele Buster, who, eager to learn the cheese business, agreed to work with Pierluigi to market and sell his cheeses. The resulting collaboration was the creation of Forever Cheese in 1998, whose mission is to bring to us the finest of Mediterranean-style cheesemaking, including cheeses from Croatia, Italy, Portugal, and Spain. Over the course of the past 20 years, Michele and Pierluigi have forged relationships with artisan producers to bring their stories and products to life in new markets, from their family businesses to our tables.
This Spanish selection from Forever Cheese, Malvarosa, first imported to the United States in 2004, has a unique story and inspiration: the Guirra breed of sheep. Valencian cheesemaker, Enrique, created this cheese to preserve this breed, which had become nearly extinct by 1990. With his cheesemaking, he has grown the herd to 500 sheep.
Malvarosa is a pasteurized, semi-firm, sheep's milk cheese made in a Manchego-like wheel, then aged a minimum of three months. The cheese's preparation and presentation are distinctive: it is wrapped in cheesecloth, then the curds are drained by tying together the ends of the cloth, which causes the cheese to resemble a servilleta (napkin) when unwrapped. While it retains the characteristic butterscotch and caramel sweetness of sheep's milk, this cheese is also nutty, with rich, buttery notes. Because of its firmness, it is great for slicing and snacking, the perfect choice for a cheese platter. Pair this cheese with a rustic Spanish red, like Garnacha, Monastrell (mourvèdre) or Tempranillo.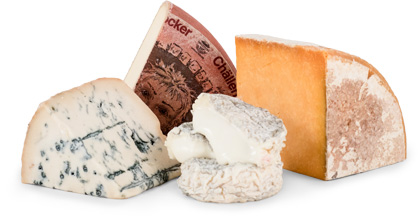 Experience International Variety
You might receive a Gaperon, originating in France during the 14th Century, an
authentic Lancashire by Ruth Kirkham, and an Italian Taleggio matured in the
caves of Valsassina…all in one shipment!
DISCOVER OUR TWO CLUBS