Situated on the edge of the beautiful rolling hills of Lincolnshire Wolds, about ten miles from the United Kingdom's coastline bordering the North Sea, lies family farm Ulceby Grange, home of Lincolnshire Poacher. The property has been in the family since 1917 and became a dairy farm in 1970 under third-generation family member, Richard Jones. When Richard's son, Simon Jones, returned from studying agriculture in college, he began exploring the possibility of becoming a cheesemaker. Although Ulceby Grange had idyllic, rich pastures and chalky soils, dairy farms and cheesemaking in this remote area of the United Kingdom were unusual.
Simon took a cheesemaking course at Reaseheath College and observed other producers in the southwestern region of the country before creating his small-scale business. Starting with a 1000-liter vat and the guidance and assistance of Welsh cheesemaker, Dougal Campbell, Simon made his first batch of cheese on February 17, 1992. The recipe for this cheese, Lincolnshire Poacher, was based on Campbell's Tyn Gryg. It was so well received that Jones had to hire a full-time cheesemaker, Richard Tagg, who continues in this role today. In 1995, Simon built a larger and more efficient dairy and cheesemaking facility inside of an old farm building, and in 2000, Simon's brother, Tim Jones, entered the family business to manage Lincolnshire Poacher's marketing and sales.
The raw milk for Lincolnshire Poacher is sourced from the farm's herd of Holstein Fresian cows. After 14-24 months of maturation, the resulting cheese is a rustic hybrid of sorts, exhibiting qualities of both an English Farmhouse Cheddar and a Swiss Alpine Comté. The natural, earthy rind is mottled like granite, lovely and interesting. Inside, the paste is firm and fudgy, yet also luxuriously creamy, pliable, and smoothly textured. This cheese shows a plethora of aromas and flavors, including both sweet tropical fruit – think pineapple – and savory notes, with remarkable mineralilty. During warm-weather seasons, Lincolnshire Poacher is fruity, nutty, and grassy on the palate. However, during the winter, it develops meaty, smoky flavors. This cheese pairs with full-bodied whites and reds like barrel-fermented Chardonnay and Cabernet Sauvignon. For those who prefer beer, try farmhouse-style ales like Bière de Garde, Saison, Lambic, and sours.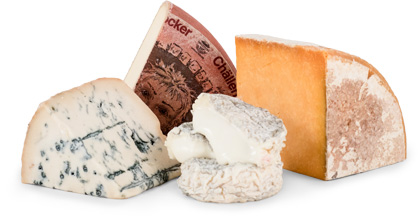 Experience International Variety
You might receive a Gaperon, originating in France during the 14th Century, an
authentic Lancashire by Ruth Kirkham, and an Italian Taleggio matured in the
caves of Valsassina…all in one shipment!
DISCOVER OUR TWO CLUBS