The county of Lancashire, located in the northwest of England and to the east of the Irish Sea, is a combination of rough and rugged countryside and industrial towns. It was the home of the industrial revolution in England, and, until 1974, when county boundaries were redrawn and the city of Liverpool booted out, it was perhaps most famed as the Beatles' home county. But its real claim to fame is Lancashire cheese which is made in the area located a little north of Cheshire—home and namesake to another of Britain's finest cheeses. Lancashire is traditionally produced using the curd from two or three days' worth of milkings, which contributes great depth to the cheese's creamy richness. Lancashire is one of the lesser-known cheeses of England, often overshadowed by Cheddar and Cheshire, its more famous counterparts, but those who discover it appreciate its fantastic crumbly texture and buttery taste. In Great Britain it is the classic "toasting" cheese: crumbled or spread onto bread and heated under the broiler. They place a layer of apple chutney on homemade bread—white or wheat—then crumble some Lancashire on it and set it under the broiler 'til the cheese is bubbling hot and lightly browned. This home-country tradition which became known as "Welsh Rarebit" or "Welsh Rabbit" was considered to be a luscious supper or tavern dish, and it remains a simple and classic way to enjoy Lancashire. Variations include heating ale or milk gently in a pan and then crumbling Lancashire into it. You'll want to go nice and slow, or the cheese will become stringy. When it's all melted together, spread the mixture over toast and broil until golden brown. Experiment with adding your favorite flavors or seasonings, such as chives, mustard, or, if you want to be very English, Worcestershire sauce.
Lancashire's combination of a delicate texture and rich, creamy flavor places it in a distinct category of its own. Lancashire, like most British cheeses, is the perfect complement to a good beer or ale. It's equally delicious paired with a Chardonnay or Muscadet. It often appears as a staple part of a "Ploughman's Lunch," a traditional meal served in pubs across Great Britain. Ploughman's Lunch originated as a filling meal of crusty bread and rich cheeses, accompanied by chutney, fruit, and raw vegetables that was carried to the fields by farmers, hence the name.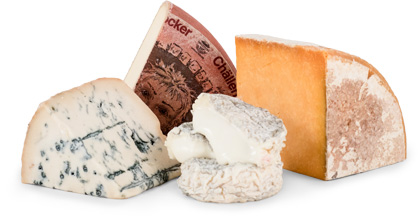 Experience International Variety
You might receive a Gaperon, originating in France during the 14th Century, an
authentic Lancashire by Ruth Kirkham, and an Italian Taleggio matured in the
caves of Valsassina…all in one shipment!
DISCOVER OUR TWO CLUBS