In 1978, Larry and Clara Hedrich bought a small 'hobby farm' in central Wisconsin. Before they knew it they had a couple of goats, a handful of chickens, and even a pair of peacocks. Soon realizing the potential in their goats, they named the farm LaClare Farms, aptly named after founders Larry and Clara. Over the next several years Larry and Clara not only grew their farm, but their family as well. Now adults, four out of five of their children are involved in the family enterprise.
The family recalls their vacations visiting goat farms all over the country, and even the world, to learn all they could about goat cheese making. Eventually, they discovered that the best goat cheese is made when every aspect of the cheesemaking process is controlled by them. Today, LaClare Family Creamery controls the entire process down to growing their own Non-GMO certified feed, breeding or selecting the best stock, using humane and sustainable herd management practices, ensuring proper milk safety and handling, and mastering the art of cheese making. Their efforts have paid off: the Chevre in your shipment today has won awards including First Runner Up in Class at the 2017 and 2011 Wisconsin State Fair.
LaClare not only makes the delicious Chevre you have your shipment today, but they make a variety of award-winning goat's cheeses including goat mozzarella and goat cheddars as well as fresh goat yogurts. If you're in the area, you should stop by their farm where you can watch the milking process, visit their delectable retail "Shoppe" with a variety of artisan goods including their 30 different flavors of 10 different cheeses, or visit their farm-to-table café and dine on menu items all made from scratch.
This delicate farmstead chevre is made from fresh goat's milk. Once up to room temperature, you'll find the texture to be crumbly yet milky, mild and bright with butter and lemony notes. We love this cheese as it can be used in so many ways. It's bright white appearance looks striking on a cheese board and pairs well with most other cheeses, cured meats, and fresh fruits. Because the cheese has buttery lemon notes, try pairing it crumbled on fresh herbed salads. We could go on forever on uses for it, but for the sake of time, we managed to limit it to a couple more: it makes an excellent addition to pizza, mac & cheese, and even avocado toast with slices of fresh avocado, olive oil, and freshly cracked pepper and sea salt. On the beverage side, LaClare Family Creamery recommends Pilsners and other Lagers, Pale Ales, and Weissbiers (Wheat Beers) for beer and Chianti and Pinot Gris for wine. Enjoy!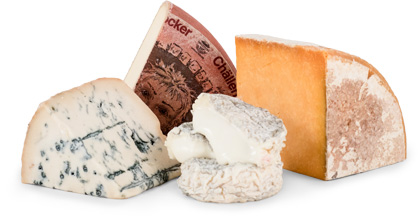 Experience International Variety
You might receive a Gaperon, originating in France during the 14th Century, an
authentic Lancashire by Ruth Kirkham, and an Italian Taleggio matured in the
caves of Valsassina…all in one shipment!
DISCOVER OUR TWO CLUBS