Having garnered first place in class at the 2018 World Championship Cheese Contest, the LaClare Family Creamery's Cave Aged Chandoka is one of our new, favorite go-to cheeses, and we have a lot of really good cheese here at The Rare Club. We have been huge fans of this cheese from the moment we first discovered it. Founded in 1978 in rural Malone, Wisconsin, and named after founders Larry and Clara Hedrich, the family owned and operated creamery's foundations are rooted in the artistry of their craft, family values, and hard work. Today LaClare Family Creamery is one of the most awarded goat cheese producers in the country. Well done, team Hedrich!
Cave Aged Chandoka is a cloth-bound, New Zealand-style cheddar pressed from a pasteurized, whole milk blend of 70% cow's milk and 30% goat's milk, then aged at least eight months. Young cheesemaker Katie Hedrich Fuhrman is a bit of an up-and-coming rock star in the world of cheese, but the entire family plays an instrumental role in LaClare's success. They are a farmstead operation, meaning that the milks used in their cheeses comes from the herd on her parents' farm, so this cheese is in the hands of the family from start to finish and will arrive to you fresh from the LaClare family farm and creamery to your table.
The mixed milk blend creates a really interesting mélange of sweetness and rich, deep savory notes. If a sweet goat's milk gouda fell in love with a savory English cheddar and had a baby, they would name it Chandoka. The cow's milk contributes to the cheese's sweet, fruity, and buttery characteristics, while the goat's milk expresses itself in savory and tangy notes. This cheese will more than likely be the first one to disappear from your gathering's cheese board. It is also extremely versatile as a cooking ingredient as well. Consider pairing it with saisons, dry ciders, amber or red ales or a hop-centric imperial IPA. If you fancy wine, we suggest fuller-bodied, dry whites and reds such as a barrel fermented chardonnay, cabernet sauvignon, pinotage, or zinfandel.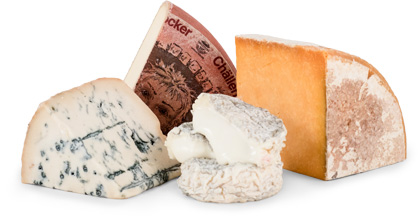 Experience International Variety
You might receive a Gaperon, originating in France during the 14th Century, an
authentic Lancashire by Ruth Kirkham, and an Italian Taleggio matured in the
caves of Valsassina…all in one shipment!
DISCOVER OUR TWO CLUBS