In 1989, cheese affineur Betty Koster founded Fromagerie L'Amuse with her husband, Martin. The name of their business came from the French phrase, l'amuse gueule, that translates as "caressing the tongue," an apt description of tasting cheese. Today, they own two retail shops in The Netherlands, one in Amsterdam and one northwest of the city in Ijmulden, just off the Vissershaven docks, where Koster was born. Both are prime destinations for cheese lovers, offering rare, small-production Dutch gems like Wilde Weide, Terschelling, and this month's featured cheese, L'Amuse Pril. Koster's longtime relationships with Dutch cheesemakers, farmers, and openleggers, a person who specializes in aging Gouda-style and other Dutch hard cheeses, have given her access to an unparalleled range of cheeses, and she exports only a handful to the United States. Very few retailers have access to the rare and delicious cheese you will try this month.
L'Amuse Pril is small-batch gouda made from pasteurized, Holstein Friesian cow's milk and traditional rennet in the Dutch region of Beemster. This cheese has all the flavors we look for in good goudas, such as sweet butterscotch, burnt caramel, and hazelnut; a contrasting saline quality; and a velvety paste. This mouthfeel is what really sets it apart from other goudas. Aged three to six months, you will find it especially melt-in-your-mouth creamy, with a powerful and lingering, yet balanced, finish. The extra smooth paste makes this a great melting cheese for cold-weather comfort foods like roasted potatoes, macaroni and cheese, gratins, and of course, grilled cheese sandwiches. Koster herself sells gouda fondues in her cheese shops. Suggested accompaniments include both salty and sweet foods such as charcuterie, olives, nuts, and dried fruits. In her Dutch shops, Koster offers green tea in wine glasses as a pairing to enhance the floral notes of the cheese. Because of its sweet-salt duality, this young gouda is delicious with Barleywine-style ales, stout beers, a fruity Pinot Grigio, an off-dry Riesling, a light and fruity Beaujolais, or barrel-fermented and aged, buttery-style Chardonnay.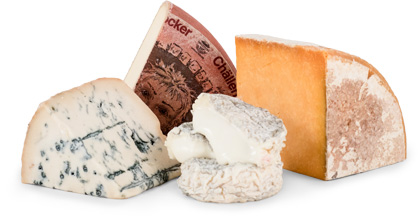 Experience International Variety
You might receive a Gaperon, originating in France during the 14th Century, an
authentic Lancashire by Ruth Kirkham, and an Italian Taleggio matured in the
caves of Valsassina…all in one shipment!
DISCOVER OUR TWO CLUBS