Emmi is Switzerland's largest milk processor and one of Europe's most innovative dairies, adhering to strict standards regarding animal nourishment and treatment, milk and cheese production, and sustainable agriculture. The company's mission includes enlisting and supporting regional farmers and cheesemakers, as well as guarding centuries' old family recipes and traditions since its inception in the early 1900s.
Kaltbach Le Crémeux is Emmi's newest cheese, arriving in the United States in early 2017. It is a washed-rind cheese made at the Emmi facility in Emmen, then cave aged in Kaltbach Cave, a veritable labyrinth of 22 million-year-old natural sandstone located near Lucerne in the Alpine Valley of Switzerland. It is named after the river that runs through the cave, which keeps the humidity at 96%, a crucial component in the development of the cheese's texture.
Made from pasteurized cow's milk and aged four to six months, Kaltbach Le Crémeux is a firm, mountain cheese. Yet, it also has a custard-like, or soft egg yolk, consistency on the palate, with buttercream flavor and mouthfeel and notes of toasted nuts, sweet vegetal herbs, and a savory finish reminiscent of chicken stock. Serve Kaltbach Le Crémeux with sweet fruits like blackberries, pomegranate seeds, pineapple, and raspberries, as well as caramel corn, nuts, and olives. Try this cheese with cooler-climate Alsatian and Burgundy-style whites and reds, Beaujolais, port, or sherry.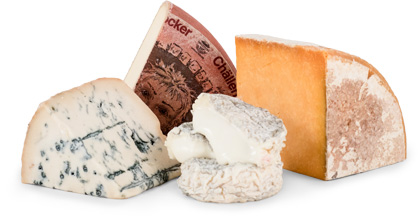 Experience International Variety
You might receive a Gaperon, originating in France during the 14th Century, an
authentic Lancashire by Ruth Kirkham, and an Italian Taleggio matured in the
caves of Valsassina…all in one shipment!
DISCOVER OUR TWO CLUBS