Swiss cheesemaker and affineur, Urs Leuenberger, has a long history of making cheese and working at dairies. For a number of years he made Emmentaler AOP, but when two dairies merged, he had to let go of his cheese dairy. For the next 12 years, he worked as a manager for an industrial milk processing company. Leuenberger's return to the mountain dairy Vorderfultigen, whose cheesemaking tradition dates back to 1883, was a joyous moment for Leuenberger. "Being back in a dairy makes me happy. Here I can meet my high standards of cheese quality and innovation," he shared.
At Vorderfultigen – located in the hilly Gantrisch area between Bern, Fribourg, and Thun – Leuenberger and his team make wheels of this month's club selection, Jùscht, daily from fresh, raw milk that comes from cows within one kilometer of the dairy, "so I can actually see the cows grazing from the cheese dairy," he said. Jùscht is made immediately upon arrival – the milk is still warm and retains its full fat content. It is aged one month at Vorderfultigen before it is transported to Gourmino's mountain cave to finish affinage, where the wheels are treated with salt water two times per week. That treatment – combined with the cave's natural, steady temperature of 54º F and 93% humidity – is ideal. "Denn schliesslich ist nichts so perfekt wie die Natur" – nothing is as perfect as nature.
The name Jùscht comes from a phrase, "Eifach en Jùschte," which means "Simply a good one" in the Seisler dialect of the German-speaking area of Fribourg. Jùscht means something that is just (correct, right) and good, and what a good – great – cheese Jùscht is!
Jùscht is a young cheese, aged three and a half months total. Its youthfulness reveals itself on the nose and palate, where it shows a smooth and supple texture (no crystals), a sweet yeastiness, and aromas and flavors of muesli milk – milk that has absorbed the flavors of muesli. Jùscht's flavor profile makes it a perfect breakfast or snacking cheese. It is so decadent that you will not be able to stop at just one bite.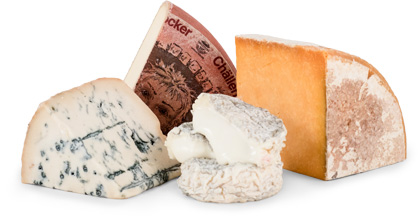 Experience International Variety
You might receive a Gaperon, originating in France during the 14th Century, an
authentic Lancashire by Ruth Kirkham, and an Italian Taleggio matured in the
caves of Valsassina…all in one shipment!
DISCOVER OUR TWO CLUBS