Located in Greensboro, Vermont, Jasper Hill Farm is a farmstead creamery, sourcing its milk from their own herd. In 1999, Brothers Mateo and Andy Kehler bought the Jasper Hill Farm, which took its name from the original owner, and started producing cheeses in 2003. Inspired by early successes, in 2008 the brothers went on to build The Cellars, a 22,000 square foot underground aging cave to age both cheeses made at the creamery as well as those from other local producers. The Cellars offers marketing, sales, and distribution services for every cheese in its portfolio to help reduce the barriers to entry for small-batch cheesemakers.
Another 'Northeast Kingdom gem' from the Jasper Hill Creamery, Little Hosmer is a relatively newer cheese from Jasper Hill. L'il Hos may be small, but he's already racked up a super gold in 2017 at the World Cheese Awards. This is a small format brie (4 ounces), aged 7-9 weeks, with a white bloomy rind. Look for light flavors of mushroom, cabbage, toasted nuts, and fresh cream. The paste is very soft, pliable, and spreadable, and the mouthfeel is super creamy and clean. We found it a milder brie that will appeal to many cheese lovers and novices alike. The creamery notes that it's a perfect size for a picnic and suggests pairing with a fruited wheat beer. We also think it's divine simply spread on a fresh baguette.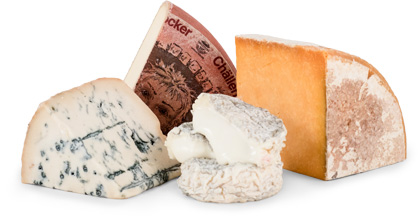 Experience International Variety
You might receive a Gaperon, originating in France during the 14th Century, an
authentic Lancashire by Ruth Kirkham, and an Italian Taleggio matured in the
caves of Valsassina…all in one shipment!
DISCOVER OUR TWO CLUBS