Jasper Hill Farm, a well-known Vermont creamery and one of the leading cheesemakers and affineurs in this country, has been developing the flavor profile for this cheese, which is starting to really gain attention and be sold at the country's finer cheese counters. A 2017 American Cheese Society winner, Alpha Tolman is an alpine style cheese developed from a Swiss Appenzeller recipe; it's a cooked curd and pressed cheese.
We've elected to showcase the creamery's longest-aged profile of Alpha Tolman this month. Eight to twelve months of aging gives it a bolder flavor profile and a crumblier texture. Its paste is creamy and the flavors complex, offering notes of carmelized onions, and toasted, earthy and sweetgrass notes, along with slightly sweet fruit notes. Overall, it's a savory, nutty, slightly salty profile with a thick, creamy texture and mouthfeel.
The creamery suggests pairing it with a robust ale, plummy red wine, or onion jam. For a truly satisfying meal, try melting it onto a plate of fingerling potatoes, cured meat and natural sour pickles as is often done with French Raclette.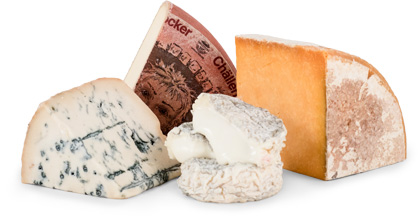 Experience International Variety
You might receive a Gaperon, originating in France during the 14th Century, an
authentic Lancashire by Ruth Kirkham, and an Italian Taleggio matured in the
caves of Valsassina…all in one shipment!
DISCOVER OUR TWO CLUBS