Idiazábal is a classic, delicious, robust cheese recognized primarily for its rich, smoky flavor – a tradition launched centuries ago when the cheeses were stored near the night fires of the field shepherds who lived in adjacent mountain huts. The cheeses were made only during the summertime in rural dwellings on top of the mountains. Living conditions in the Basque region of Spain where this cheese was born have vastly improved, and so has the market for this exceptional sheep's milk cheese. Thankfully, some of the old traditions die hard. Idiazábal retains its standing as "the quintessential shepherds' cheese" and is considered a delicacy among cheese purists. It is a treat sure to delight the palate all year 'round, but is especially well suited for the outdoor cooking of summer months. At the end of the Idiazábal aging process, a smoking process occurs using various local tree woods. The intensity of the smoked taste depends upon the intensity and length of the process, as well as the woods used. Typically, the cheese is smoked with cherry wood, hawthorn or beech wood. There is also an un-smoked version made in lower elevations where there was no tradition of smoking food products.
A real favorite of those who enjoy a tasty, chewy cheese, Idiazábal has a hard, dry texture yet feels pleasantly oily when consumed. Cheese lovers rave about its distinctive rich, buttery flavor and its perfumed aroma. Even its hard, orange-brown rind is edible. The cheese is often served with a full-bodied Spanish red wine, like the wines you can find in our new
red wine of the month club
, and is considered a perfect companion for grilled or barbequed meats. It is the perfect cheese to melt on top of grilled burgers. Other ways to enjoy Idiazá bal include serving it on toasted bread, over salted crackers or grated in salads. Regardless of how you serve Idiazábal, you're sure to be pleased and delighted by it.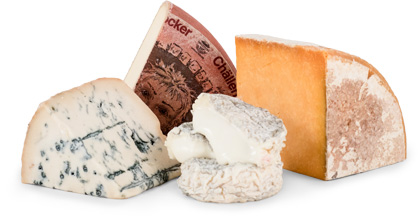 Experience International Variety
You might receive a Gaperon, originating in France during the 14th Century, an
authentic Lancashire by Ruth Kirkham, and an Italian Taleggio matured in the
caves of Valsassina…all in one shipment!
DISCOVER OUR TWO CLUBS