If you've never heard of Halloumi, it's not surprising. It has been the cheese of the Mediterranean island of Cyprus for centuries but authentic Halloumi has only recently been exported to the U.S. (in an attempt to please Cypriot immigrants to the States; unimpressive industrial versions have been here longer). Some vociferous Cypriots living in Ann Arbor, Michigan convinced the award-winning, Zagat-rated Zingerman's Deli that Halloumi was worth pursuing. Their passion for this special cheese—combined with Zingerman's passion for pleasing customers—is our good fortune.
So what exactly is Halloumi? It's made with sheep's and goat's milk just as it has been for centuries. Fresh curd is submerged in hot whey to soften and stretch it pasta filata style as in mozzarella making. The young cheese is then aged in baskets and folded into wedges about the size of a small purse. On the ever-sunny island of Cyprus, Halloumi is part of every meal—breakfast, lunch and dinner. A day without wine may be like a day without sunshine for the French but for Cypriots a day without Halloumi would be a dark day indeed!
Halloumi has a very appealing flavor that's unlike any other cheese: mellow, but not in the least boring, mildly feta-like, notably tangy, and never too strong. It can be enjoyed almost any of the ways you'd eat other cheeses: sliced, for a simple snack, cubed in salads or melted it in or on casseroles. But the best way to eat this unique cheese is to fry it or grill it—briefly—until its exterior is a lovely golden brown. No other cheese grills up as nicely as Halloumi. The light, golden-brown crust bubbles up on the outside of the cheese and the interior gets soft, not quite runny, and is delicious. Grilling Halloumi is easy. Simply slice the cheese into half-inch thick pieces, lay them on a hot skillet that's been lightly brushed with olive oil. (You can go skip the oil, if that's your preference). Leave the cheese in the pan about two to three minutes, until it's lightly browned on its down side. Carefully flip the slices and fry the other side. When the cheese is golden brown on both sides, serve them one of many ways. Enjoy them solo as an appetizer with a light drizzle of extra virgin olive oil and freshly ground black pepper. Or try them with wedges of ripe melon. Top the fried Halloumi with a caper sauce consisting of salted capers, soaked for a few minutes to remove the salt, (then drained) and mixed with olive oil, vinegar, a bit of lemon, some crushed coriander seeds, chopped fresh cilantro leaves, chopped garlic, sea salt and freshly ground black pepper.
Slices of grilled Halloumi are wonderful in a green salad. On Cyprus, the salad green of choice is arugula which, fortunately for us, is a green now widely available in the U.S. Consider adding a few grilled ripe fig halves or sliced apples or pears. Again, vinaigrette made with a high quality extra virgin olive oil works wonderfully. Consider having Halloumi for breakfast. Cypriots enjoy it with wedges of ripe watermelon. You can enjoy it with your melon of choice. For a more familiar morning format, serve it grilled with a few slices of toast, wedges of tomato, eggs (cooked in olive oil, of course) and a good cup of java.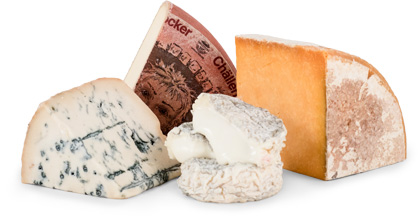 Experience International Variety
You might receive a Gaperon, originating in France during the 14th Century, an
authentic Lancashire by Ruth Kirkham, and an Italian Taleggio matured in the
caves of Valsassina…all in one shipment!
DISCOVER OUR TWO CLUBS