Swiss cheesemaker, Reto Güntensperger, is a third-generation cheesemaker from the Saint Gallen Canton in Switzerland. The home in which he grew up was adjacent to the family's historic Bodmen Dairy. In fact, his bedroom was only a few steps away from the cheesemaking room where the first two generations of cheesemakers, his grandfather and father, handcrafted Appenzeller cheese in a 1,500-liter vat. In 1999, Güntensperger's father and two brothers purchased and rebuilt an empty, unused dairy in the village of Bütschwil, to expand and modernize their cheese production and ready the company for future family generations. Twenty years later, Kaserei Bütschwil maintains a balance of cheesemaking tradition and efficacy.
This month's selection, Güntensberg, a variation of Appenzeller, is named after Güntensperger. The milk for this cheese is sourced from 50 contributing herds of Bergmilch Braunvieh – Brown Swiss – cows. It is made from the raw cow's milk combined with traditional calf stomach rennet, then aged six months prior to release.
It is often said that we first eat with our eyes, and in the case of Güntensberg, this is true. This cheese's cooked and pressed rind is a golden brown, burnished color that conjures up images of roasted hazelnuts and autumn root vegetables, like butternut squash and pumpkin. When you taste the densely creamy paste of the Güntensberg, the aforementioned savory, roasted flavors come through, along with those reminiscent of rich bread pudding or custard, buttered popcorn, cream, and egg yolks. Toss this cheese into a basket as a welcomed accompaniment to picnic fare. Suggested beverage pairings for the Güntensberg's buttery, creamy consistency and savory flavors include cooler-climate Alsatian or German white wines with higher acid and some residual sugar, like Gewürztraminer, Pinot Gris, or Riesling. Hard cider's similarly sweet and effervescent profile will also compliment the creaminess and savoriness. Beer lovers, this cheese also calls for Pilsner, Bock, Brown Ale, or Imperial Stout.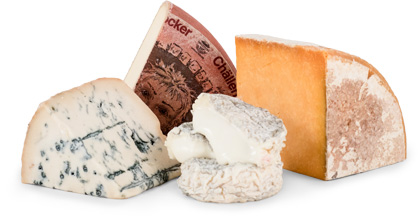 Experience International Variety
You might receive a Gaperon, originating in France during the 14th Century, an
authentic Lancashire by Ruth Kirkham, and an Italian Taleggio matured in the
caves of Valsassina…all in one shipment!
DISCOVER OUR TWO CLUBS