Just in time for outdoor grilling and gathering, we have a real treat for you, our new Grillies Halloumi.
For those of you who may not have heard of or tried Halloumi, it is a cheese that hails from the beautiful Eastern Mediterranean island of Cyprus. Cypriot cheesemakers have been making it locally for centuries. It is also a popular cheese in other Eastern Mediterranean countries such as Greece and Turkey, the United Kingdom, and now worldwide, including the United States. The name Halloumi is a Cypriot trademark, and the cheese has Protected Designation of Origin (PDO) status in the European Union.
Grillies founders, Vas, Petros and Yannis, founded Grillies in 2015, inspired by their longtime shared passion for Halloumi. They had known each other since childhood, where they spent summers together, frequently enjoying Halloumi as the cheese staple for beach barbecues, gyros, souvlaki and saganaki.
The goat's and sheep's milks for Grillies Halloumi are sourced from local and sustainable Cypriot farms. The cheese is all natural, with the only ingredients being pasteurized milks, salt, and mint. Cheesemakers add cheese cultures, enzymes, and non-animal rennet, causing the milk to coagulate into cheese curds, which are then shaped into blocks. The blocks go through a proprietary heating process that gives the cheese its distinctive non-melting quality.
Grillies Halloumi is a creamy white color with a semi-hard, yet springy texture. On the palate, it is salty and tangy, begging for acidity, effervescence, or sweetness. Grillies recommends a cold beer for summer barbecues. For those who enjoy wine, we suggest Cypriot Xynisteri or Commanderia, a fortified wine made from Xynisteri and Mavro. Greek wines like Assyrtiko (white), a rosé of Agiorgitiko, and Xinomavro (red) also pair well. A Blanc de Noir Xinomavro sparkling is a fantastic brunch pairing.
While Halloumi is sometimes served on its own, it truly shines as a cooking cheese, ideal for any appetizer plate or meal, or an entrée meat pairing or substitute. A few ways to enjoy Halloumi include barbecuing or grilling it as a side dish or main course, frying it with eggs and your choice of meat for brunch or breakfast, sautéing it with leeks and lemon zest, or frying it with nuts, seeds, and herbs. For a sweet rendition, grill or bake it, then top with honey or serve alongside apples, figs, or pears. The contrasting salinity and sweetness are an irresistible and flavorful combination.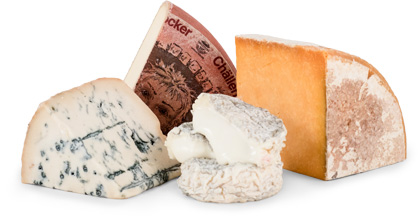 Experience International Variety
You might receive a Gaperon, originating in France during the 14th Century, an
authentic Lancashire by Ruth Kirkham, and an Italian Taleggio matured in the
caves of Valsassina…all in one shipment!
DISCOVER OUR TWO CLUBS