Grana Padano, DOP cheese was originally made by the Cistercian Monks of Chiaravalle in the twelfth century – in the region between the Po, Ticino and Adda Rivers – as a means of not wasting fresh milk. By 1477, Grana Padano had evolved into one of Italy's most sought-after cheeses. Until the early twentieth century, it was made in a variety of shapes, sizes, and methods. However, in the 1930s, advances in cheesemaking technology standardized production. In 1996, Grana Padano attained recognition as a Protected Designation of Origin (PDO/DOP).
Grana Padano is aged a minimum of 9 months, though the version we select for our club members is aged 18-20 months. The source of our Grana Padano selection is Farm 539, which is located on the border of two provinces, Parma and Piacenza, in the municipality of Villanova sull'Arda within the region of Emilia-Romagna. Our producer is Latteria Sociale Stallone, which has been making cheese for over 50 years, sourcing milk from 15 regional farmers. Prior to the delineation of Parmigiano Reggiano in the 1950s, Latteria Stallone's cheese was still called Parmigiano Reggiano.
Grana Padano – made from partially skimmed, raw cow's milk – is like Parmigiano Reggiano's precious, younger sister. The two cheeses are similar – both have a golden-hued paste and are studded with protein flavor crystals. However, Grana Padano is slightly lighter in color, and it has a notable grainy texture, which is how it earned the name Grana – grainy – in Italian. Grana Padano is younger and softer, with delicately sweet tropical fruit notes cradled in rich buttery flavor. Add Grana Padano to a platter of Italian charcuterie, Marcona almonds, and olives, or as a topping for Italian-style pasta, pizza, and roasted vegetable dishes. Suggested wine pairings include bubbly and/or food-friendly whites and reds to offset the creaminess – like sparkling Franciacorta DOC, Trento DOC, or Prosecco DOGC – as well as Gavi, Barolo, or Primitivo (Zinfandel).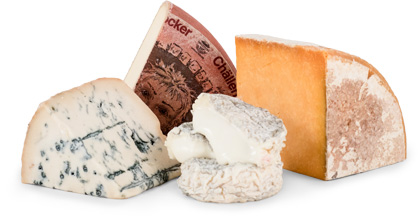 Experience International Variety
You might receive a Gaperon, originating in France during the 14th Century, an
authentic Lancashire by Ruth Kirkham, and an Italian Taleggio matured in the
caves of Valsassina…all in one shipment!
DISCOVER OUR TWO CLUBS