Located in Vermont and dating back to 1892, Grafton Cooperative Cheese Company was founded by a group of dairy farmers who banded together to make their over-abundance of milk into cheese. In those early days without refrigeration, cheese was produced so that it could be stored safely and consumed later, without wasting the milk overage. While the cooperative's original nineteenth century cheesemaking factory succumbed to a fire, in the 1960s it was rebuilt by the Windham Foundation of Grafton, Vermont, a non-profit, community organization that funds educational and technical programs for the rural Grafton area. Today, Grafton Village Cheese, as the company is now known, makes award-winning, aged, cave-aged, and flavored cheddar cheeses using mostly raw Jersey cow's milk that is sourced and delivered daily from small family farms, a base milk that is recognized for its characteristic high butterfat and protein. If you find yourself in Brattleboro, Vermont, Grafton Village Cheese has both a retail store and a viewing into their cheesemaking process.
This month's selection, Grafton's flagship Clothbound Cheddar, is a sharp, firm and flaky, yet creamy cheese made in the centuries-old British and pre-industrialized United States traditions, which means it is wrapped in cheesecloth, then cave-aged for six to nine months, yielding more robust and layered flavors than modern, plastic-aged cheeses, and in a shorter amount of time. The gray rind surrounding the Clothbound Cheddar may be a bit misleading as to what you will discover on the inside: a rich, English-style cheddar. On the nose, it shows notes of butter, citrus, and an aroma resembling the cave in which it was aged. Its biscuit-crumbly and buttery mouthfeel is replete with savory umami flavors, nuttiness, and a hint of sweetness. The Clothbound Cheddar may be served alone as a table cheese or as part of a cheese platter, combined with other cheeses to make a melted topping for meats and vegetables, or as an accompaniment to crisp apples, chutneys, charcuterie, and pickles. Pair this cheese with a variety of craft beverages like Chablis, Pinot Noir, off-dry Riesling, red ales, wheat beers, or dry and off-dry ciders.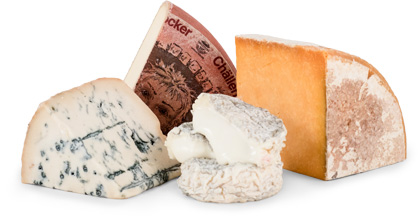 Experience International Variety
You might receive a Gaperon, originating in France during the 14th Century, an
authentic Lancashire by Ruth Kirkham, and an Italian Taleggio matured in the
caves of Valsassina…all in one shipment!
DISCOVER OUR TWO CLUBS