Handcrafted by world champion cheesemaker, Michael Spycher, at the Swiss mountain dairy, Fritzenhaus, which has been making fine artisan cheeses since 1847, Hornbacher is made from nutrient-rich milk sourced from 12 local farmers who deliver fresh milk to the dairy twice per day. Their cows graze the entire summer on lush meadows and eat fine hay during the winter months, guaranteeing the highest quality milk and allowing a long, natural 12-month ripening process.
The dairy resides in a small, secluded mountain hamlet in the community of Sumiswald, located in Switzerland's legendary and picturesque Emmental valley region. The cheese itself takes its name from the Hornbach River which runs alongside the dairy. Michael has built and maintained long-term partnerships with his farmers—relationships so strong, in fact, that in 2013 they assisted him with building his new cheese cellar where he ripens and cares for the Hornbacher cheese that you will have the opportunity to try this month.
In addition to crafting his world champion Le Gruyère AOP, Michael has produced his specialty, Hornbacher, for almost 25 years. Prior to 2014, he and his wife, Monika, sold Hornbacher only at their local market and the tiny cheese store located on the dairy's property. We are so excited that we can now get our hands on enough of this small-batch, artisanal treat to be able to share it with you.
Hornbacher arrives in warm, burnished-brown colored, 12-pound wheels that when first opened, offer hints of mushrooms, mineral notes and browned butter. Imagine, if you will, aromas and flavors such as roasted hazelnuts and caramelized onions. The cheesemaker describes the flavor as 'buttered baked potatoes.' This firm cheese is a bit crumbly, with ever-present flavor crystals, and stands out for its intense savory, umami flavors and creamy mouthfeel. It will pair nicely with fortified dessert wines like sherry and port, or a big malty beer like Elevation Beer Company's Cabernet Sauvignon Barrel Aged Quadruple, Apis IV, featured previously in The Rare Beer Club. We also recommend cool-climate, intensely-flavored, aromatic white wines like an Alsatian gewürztraminer or pinot gris. The dairy suggests using Hornbacher in your favorite chicken Cordon Bleu recipe.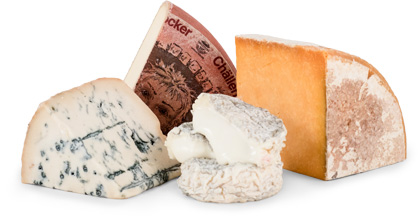 Experience International Variety
You might receive a Gaperon, originating in France during the 14th Century, an
authentic Lancashire by Ruth Kirkham, and an Italian Taleggio matured in the
caves of Valsassina…all in one shipment!
DISCOVER OUR TWO CLUBS