Founded in 1980 by well-respected Spanish cheesemaker Josep Cuixart, Formatges Can Pujol is located in the village of Vilassar de Dalt, north of Barcelona in Cataluña, Spain, and only five miles from the Mediterranean Sea. The farmstead dairy still uses the milk from their own goat herds, but also supplements with fresh milk from local farmers. Featured in this month's assortment, Ombra, known locally as Ros, was created in 1993. The name Ros translates to "Blondie," an affectionate nickname given to Josep, but also referring to the cheese's straw-colored, interior paste when mature.
Ombra, unlike any other Spanish sheep's milk cheese, is aged four months in a small format wheel showing a natural mottled gray rind. The small round wheels, roughly two pounds each, offer a firm, snowy white paste. As the cheese ages, it becomes studded with crunchy nuggets of crystalized amino acids and transforms into a warm, buttery color. As the cheese warms to room temperature, butterscotch and bright tropical pineapple notes emerge and lead into a lingering, balanced, and sweet citrus finish. It reminds us a bit of a sheep's milk Parmigiano, truly distinctive and unusual. Serve this cheese on a platter with Spanish Marcona almonds and cured hams. Ombra is traditionally served with wines from Cataluña, such as sparkling wines from Penedès (the birthplace of Cava) and red wines from Montsant and Priorat (made from garnacha and cariñena). Other wine pairings include red wines from Rioja: tempranillo, garnacha, mazuelo, and graciano.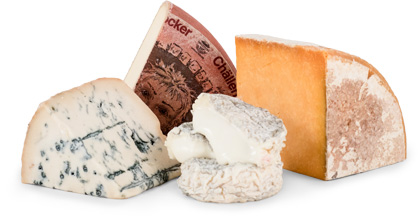 Experience International Variety
You might receive a Gaperon, originating in France during the 14th Century, an
authentic Lancashire by Ruth Kirkham, and an Italian Taleggio matured in the
caves of Valsassina…all in one shipment!
DISCOVER OUR TWO CLUBS