Believed to date back to the Bronze Age, Fiore Sardo hails from the second largest island in the Mediterranean Sea, Sardinia, Italy. This one of a kind cheese, which can also go by the name Pecorino Sardo, was certified Denominazione di Origine Protetta (Protected Designation of Origin or D.O.P.) in 1996. This certification means that there is an assurance of quality and status under European Union regulations. There is no mistaking Fiore Sardo once you try it. "Fiore" means "flower" in Italian; the name of this cheese comes from the ancient tradition of using cardoon thistle flowers to coagulate the milk, but today animal rennet is used.
There are many regulations and standards that are required to uphold the D.O.P. among the many variations of this cheese that are produced. To name a few, this cheese must be made within the Sardinian provinces of Cagliari, Nuoro, Oristano, or Sassari and must be made with pure, raw sheep's milk. For the cheese you have in your shipment today, fresh milk is collected daily from Sardinian sheep, specifically the Sarda breed, and cultured in copper kettles. Lamb rennet is then added to coagulate the milk, which gives the cheese a characteristic piquancy at the finish. Once the curd is carefully molded and turned, it gets a dunk in a hot water bath, a technique which helps strengthen the rind. To add another layer of complexity, the cheese is then smoked with local woods, particularly myrtle, and once the smoking is complete the cheese is then moved to a separate aging room where they are periodically turned and rubbed with olive oil to help protect and mature the rind. The cheese in your shipment today was aged for approximately six months.
Made with raw sheep's milk, this cheese will have robust layers of flavors with a gentle piquant character. Fiore Sardo is excellent by itself or on a cheese board paired with traditional Sardinian fair such as olives, spicy salami, and rustic bread. It is also a great grating cheese that pairs wonderfully with pestos, pastas, and salads. For beverages, try it with a robust red or a smoky beer. Remember, always bring your cheese up to room temperature before enjoying it.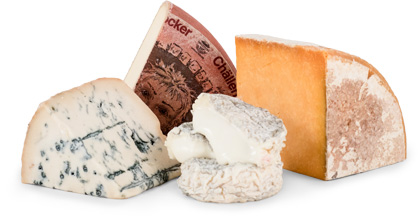 Experience International Variety
You might receive a Gaperon, originating in France during the 14th Century, an
authentic Lancashire by Ruth Kirkham, and an Italian Taleggio matured in the
caves of Valsassina…all in one shipment!
DISCOVER OUR TWO CLUBS