The Greeks have a long-standing tradition of cheesemaking. In Greek mythology, Aristaios, the son of Apollo and Cyrene, was sent to the Greeks to teach them the art of cheesemaking, a gift from the gods. Ancient texts, including those by Homer, reveal Greece's oldest brined varieties existed as far back as 4000 BC. Today, of the many cheeses from this small Mediterranean country to have earned protection under the European Union's PDO (Protected Denomination of Origin) provisions, feta is the most renowned. One bite and you'll understand why. Greek feta has gained a reputation as one of the finest cheeses in the world. Compared to fetas from other countries, Greek feta has a different—and definitely superior—taste compared to other fetas that many connoisseurs attribute to the fresh ewe's and goat's milks used in its production. In the mountainous regions of Greece, goats and sheep graze on wild herbs and grasses, which grow naturally and abundantly, without the use of fertilizers or pesticides.
We're happy to bring you feta from Dodoni, the leading Greek manufacturer, producer, and exporter of authentic feta. The company was established in 1963 by the Agricultural Dairy Industry of Epirus, a mountainous region that occupies the northwest corner of the Greek peninsula (and the south of Albania). Produced exclusively from fresh pasteurized ewe's and goat's milk, feta is the most branded Greek cheese, now known worldwide, thanks in part to Dodoni. They export feta to more than 30 countries, many of them in the European Union (EU), whose residents demand quality when it comes to cheese. Over the years, the company has received many awards for superior quality and standards from both domestic and international organizations, including the EU's coveted "High Quality Award" for excellence in cheese products and the "Most Branded Product" prize from the Greek Chamber of Commerce.
Greece's most famous traditional cheese, feta is an important part of the Greek diet and is used daily in salads, pastries, and a simple (and simply delicious) fried-cheese appetizer called "saganaki." The fact that it's made primarily from pure ewe's milk (often with some goat's milk) and ripened and stored in brine gives feta a salty, milky, slightly acidic taste. It's best when eaten fresh, so, if you will not be consuming it immediately, store it in milk. A milk bath reduces the saltiness and helps keep the cheese moist and mild in flavor. Allow a good thirty minutes for feta cheese to come to room temperature to fully enjoy its rich, tangy flavor and creamy texture. In Greece, it is often served with olive oil and oregano. (In the States we're apt to add tomatoes and red onions. Yum!) Feta can also be used in salads, pies, omelets, and soufflés. Properly stored in milk and refrigerated, feta cheese will last up to three months. Feta cheese does not freeze well, so we don't recommend freezing it. Anchovies, lamb, tomatoes, basil, and black olives marry beautifully with feta.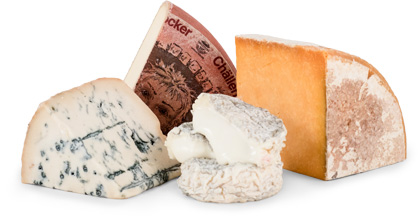 Experience International Variety
You might receive a Gaperon, originating in France during the 14th Century, an
authentic Lancashire by Ruth Kirkham, and an Italian Taleggio matured in the
caves of Valsassina…all in one shipment!
DISCOVER OUR TWO CLUBS