Ewephoria is a Dutch gouda-style cheese made from pasteurized sheep's milk instead of cow's milk, as well as vegetable rennet cultures, and then aged 12 months. CheeseLand, a Seattle-based importer of Dutch cheeses, worked with a small farm to create Ewephoria in 2004. The sheep graze on salty, green, island pastures near a nature preserve in the northern Friesland region of The Netherlands bordering the sea, where they are treated like members of the family. A representative from CheeseLand stated, "The farmer's wife told me that the sheep eat better than her two sons."
Pay close attention to the name, a play on the words ewe and euphoria, because this cheese is nothing short of euphoric. A gouda developed specifically for Americans who crave sweetness, it is a wickedly delicious cheese, a cheese candy, if you will. While it is predominantly sweet with notes of butterscotch and caramel, the minerality and salinity from the coastal terroir also come through in the cheese. It is still gouda through and through, firm with a nutty, crunchy texture, but also possesses a distinct creaminess. The balance of sweetness and saltiness makes this cheese a great standalone dessert; a melting on pies and dessert breads; an accompaniment to fresh figs, pears, and grapes; and a match for salty, cured meats like bacon and charcuterie. Pair Ewephoria with dessert wines, such as sherry or port; beers like IPAs, porters, and stouts; and bourbon.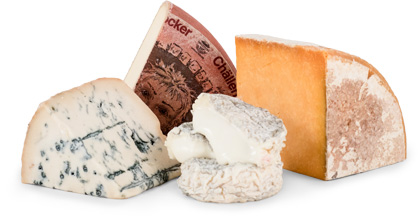 Experience International Variety
You might receive a Gaperon, originating in France during the 14th Century, an
authentic Lancashire by Ruth Kirkham, and an Italian Taleggio matured in the
caves of Valsassina…all in one shipment!
DISCOVER OUR TWO CLUBS