Cotswold cheese is named for a picturesque area of Britain – the Cotswolds are primarily located in the counties of Gloucestershire and Oxfordshire, but extend into sections of Wiltshire, Somerset, Worcestershire and Warwickshire. In 1966, an area of approximately 790 square miles of the Cotswolds region was designated as an "Area of Outstanding Natural Beauty" to conserve and enhance the natural beauty of the region. English Cotswold cheese, a variation of "Double Gloucester", was originally made from the rich milk of the black cattle of Gloucester and traditionally made in the Cotswolds. English Cotswold is a mix of chopped chives and onion, coupled with a quality Double Gloucester cheese. This smooth, cheddary delight is a modern rendition of an old British favorite which lacked the vegetable ingredients. Similar to cheddar, this cheese is aged for just three to four months so it's milder, less sharp and less firm than a well-aged cheddar. Like cheddar, it melts well and is often served melted on slices of bread. It is golden yellow to orange in color. These days, Double Gloucester and Cotswold are made in both pasteurized and unpasteurized varieties. Like most hard cheeses, this cheese can be stored for at least a month in the refrigerator so you needn't be in a hurry to finish it off, though we suspect you just might after you taste it. In Britain, Cotswold is known as "Pub Cheese," so fetch your beer mugs and have them at the ready! Your Cotswold comes from the Clawson dairy and is a long-standing member of the Clawson product line.
The harmonious blend of mellow cheese and powerful vegetables makes Cotswold a terrific complement to the softer, milder flavors on your cheese board. A simple preparation called "the ploughman's lunch" is easily the most universal of British pub snacks. It consists of a cut of a hard cheese, a home-baked bread roll, pickled onions and a pint of beer. The classic ploughman's is served with a generous slice of farmhouse Cheddar, but different pubs offer different cheeses to round out the meal. We encourage you to try making your own ploughman's lunch by pairing your cheese with hard-crusted bread and strong dark ale.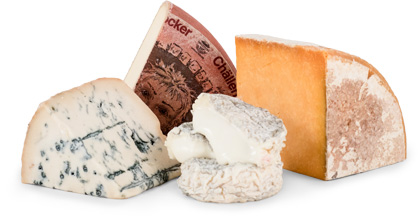 Experience International Variety
You might receive a Gaperon, originating in France during the 14th Century, an
authentic Lancashire by Ruth Kirkham, and an Italian Taleggio matured in the
caves of Valsassina…all in one shipment!
DISCOVER OUR TWO CLUBS