Murcia is a lesser-known region located in the far southeastern corner of Spain. It shares borders with Andalucia (west), Castilla-La Mancha (north), Valencia (east), and the Mediterranean Sea (south). It is an important agricultural area, producing fruits, vegetables, flowers, wine, and of course, cheese, like this month's selection, El Abuelo Ruperto.
While Murcia is primarily known for goat farming, there is a traditional Murcia dairy, Quesos Ruperto, that produces artisan cheeses from its herd of around 4000 Lacaune sheep, including this one. The family has been sheep farming for over 100 years, across three generations. Today the farm and dairy are owned and operated by third-generation family member, Llorema Madrid Zapata. In 2015, she decided to convert the farm from meat to milk production, launching her cheesemaking venture in 2017.
Llorema knows that her milk source, the sheep, are key to making great cheeses, so she maintains strict control over every aspect of their lives, even the cleaning the stables and nurseries where the lambs are raised. Under her watchful eye, their milk is transported from the milking parlor through a closed duct into the production area, without any heat treatment, chemical additives, or preservatives. Llorema uses only fresh, raw milk to preserve the uniqueness of Murcia's terroir.
El Abuelo Ruperto is Llorema's small-production, farmstead cheese aged a minimum of six months. It is aptly named after her grandfather, Ruperto, who taught her about agriculture and sheep farming, and devoted his entire life to raising sheep and the improvement of breeding and feeding, including the farm growing its own organic feed.
El Abuelo Ruperto has a natural, brine-washed, and edible rind that is a mottled gray color. The semi-firm, pale ivory paste has a chalky, crumbly texture and has some holes throughout. On the nose, it shows intense aromas of savory, wild mushrooms. On the palate, it is all at once earthy, deeply nutty, and toasty, with vibrant acidity and a fruity and spicy finish. It is an ideal accompaniment to dried apricots, chutney, honey, and nuts like Marcona almonds and hazelnuts. Pair this with Murcia's renowned red wine, Monastrell (Mataro/Mourvèdre).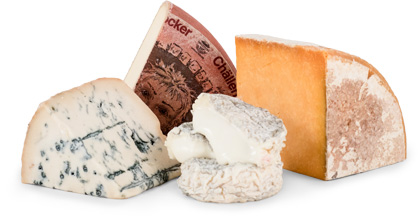 Experience International Variety
You might receive a Gaperon, originating in France during the 14th Century, an
authentic Lancashire by Ruth Kirkham, and an Italian Taleggio matured in the
caves of Valsassina…all in one shipment!
DISCOVER OUR TWO CLUBS