Drunken Goat is a most unusual goat cheese—so unusual, in fact, that finding it outside of Spain is quite a challenge. Thankfully, our traveling gourmand friends at Zingerman's were able to procure enough to supply our lucky members. So you ask, "What's with the name?" Perhaps you have images of goats weaving about the pasture, teetering, perhaps sparring, and maybe snoozing on their backs with hooves in the air pointing to azure blue skies. But just to clear the air, neither wine nor beer, nor any other form of spirit is fed to the goats. The name is a figurative one, referring to the manner in which this goat cheese soaks up the sumptuous red wine in which it's bathed. Drunken Goat comes from the Murcia region of Spain, which is famous for its Doble Pasta wine as well as its excellent goat's milk. The milk used to make this cheese comes exclusively from Murciana goats. It is high in both fat and protein, giving this cheese its amazing creaminess. Drunken Goat is aged for a short period of time before being immersed in the Doble Pasta wine for 72 hours or so. The result not only adds flavor to the cheese, it also imparts an incredibly stunning violet color to the rind. Usually rinds are various shades of brown or cream, sometimes with moldy patches of blue. It is definitely unique for a cheese to have such a brilliantly colored, violet rind. Some have likened the hue to the fiery sunsets seen in the region where it is made. After the cheese has had its luxury Doble Pasta bath, it's then aged for an additional 75 days to allow full maturation and intermingling of the cheese and wine flavors.
The Doble Pasta wine, which once bathed your Drunken Goat, is a young wine with pronounced flavors. It gives the cheese both its color and its flavor. You can expect to smell the aroma and taste the wine in the finish of the cheese. The flavor begins mild and oh-so-creamy, but finishes with a wonderful tangy sweetness and a fruity, luscious, grapey aroma. Serve it with desserts or as an appetizer.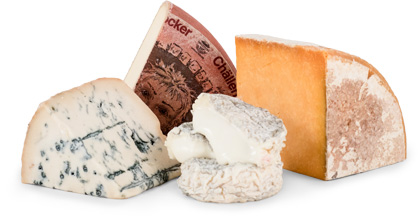 Experience International Variety
You might receive a Gaperon, originating in France during the 14th Century, an
authentic Lancashire by Ruth Kirkham, and an Italian Taleggio matured in the
caves of Valsassina…all in one shipment!
DISCOVER OUR TWO CLUBS