Third-generation Belgian cheesemaker Johan Deweer was born into a farming and dairy family. He spent his childhood absorbing everything he could along the way, immersing himself in the family business, which included both raising livestock and growing crops. In 1987 he assumed leadership of the farm and studied cheesemaking abroad in New Zealand and Normandy. Shortly thereafter, Deweer and his wife Dominique decided to move into full-time cheesemaking, naming their business Kaasboerderij 'T Groendal. The cheeses have won numerous awards across the years. The increase in demand allowed Deweer to construct a modern dairy that began operating in 2019. Deweer's son, Louis-Phillipe, has joined the as a fourth-generation cheesemaker.
As part of your club shipment this month, we are delighted to present a 'T Groendal's collaboration cheese, Drunk Monk. What makes this cheese special is the producer's partnership with Kaasaffineurs Van Tricht to use a special beer wash for the ripening rind, Rex, a Belgian blonde ale with Cascade hops created by Van Tricht and organic Belgian brewer, Brouwerij Anders. The resulting Trappist monk style cheese – made from pasteurized milk from Holstein and Brown Swiss cows and vegetarian rennet – is aged for five to seven weeks.
Visually, Drunk Monk is pale ivory in color. On the palate, Drunk Monk is semisoft, silky, and sweet like freshly churned butter or heavy cream, but with brioche-like yeasty notes from the Belgian blonde ale wash. The Cascade hops influence takes a backseat to the sweet creaminess of the cheese, adding an appealing bitterness on the finish, especially closer to the rind.
With its fudgy, gooey, and pliable texture, Drunk Monk is ideally served atop warm baked bread, burgers, hot ham sandwiches, or cooked vegetables. Melt it into fondue or make it your choice for a twist on macaroni and cheese.
The obvious beverage pairing is a beer similar in style to the wash with some hoppy notes, like Belgian blonde ale, American-style IPA, or an English-style IPA. As to wine, try a creamy-style Chardonnay or late-disgorged Brut Champagne or other traditional method sparkling wine that shows more yeastiness from the longer secondary bottle fermentation.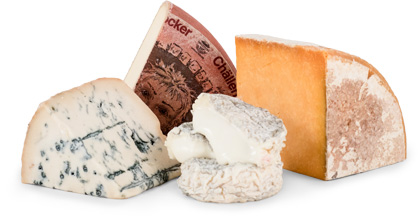 Experience International Variety
You might receive a Gaperon, originating in France during the 14th Century, an
authentic Lancashire by Ruth Kirkham, and an Italian Taleggio matured in the
caves of Valsassina…all in one shipment!
DISCOVER OUR TWO CLUBS