Délice de Bourgogne is the name of a trademarked cheese from the Burgundy region of France, created in 1975 by Jean Lincet and his fifth-generation, family-operated cheesemaking company, Fromagerie Lincet, originally founded in 1895 and based in the towns of Saligny, Vaudes, and Brochon, the latter of which shares a home with the winemaking village of Gevrey-Chambertin along the Route des Grands Crus in the Côte de Nuits. The milk for the Lincet family of cheeses is gathered daily from 61 farmers with whom Fromagerie Lancet has worked for over 50 years. The business now has 180 employees and makes 4000 tons of cheese annually.
Délice de Bourgogne is made from a secret family recipe at the Saligny dairy, which is only 60 miles from Champagne. A member of the triple-cream Brie family, it is a soft-ripened cheese, aged one to two months, in which fresh cream is added to full-fat milk during the cheesemaking process, rendering it 75% butterfat. A rich, supple, and spreadable cheese with a thin, ivory, bloomy rind, it has aromas of mushroom and crème fraîche; a decadent, melt-in-your mouth, buttery palate; and just the right balance of salinity and tangy acidity. Délice de Bourgogne is an ideal cheese for brunch, appetizers, salads, and sandwiches, and pairs with white Burgundy wines like Chablis, Gevrey-Chambertin, Meursault, and Pouilly-Fuissé; sparkling wines like Crémant de Bourgogne and Champagne; lager beer; and cider.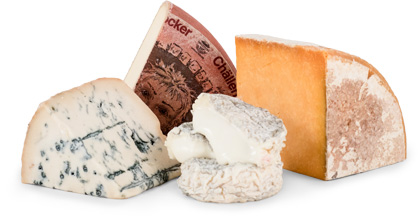 Experience International Variety
You might receive a Gaperon, originating in France during the 14th Century, an
authentic Lancashire by Ruth Kirkham, and an Italian Taleggio matured in the
caves of Valsassina…all in one shipment!
DISCOVER OUR TWO CLUBS