A rare luxury in the United States, Havarti is an interior-ripened cheese with a very creamy texture and, not surprisingly, a creamy, buttery flavor. It has a smooth surface with no rind and a springy, elastic, semi-firm texture which makes it ideal for slicing. The flesh is usually cream-colored to pale yellow, and heavily pocked with holes—small, irregular openings called "eyes." If eaten young, the cheese is often considered to be somewhat lacking in flavor but if allowed to age, the cheese attains a subtle, slightly acidic flavor which is delightful. Stronger varieties can be somewhat sharp, slightly resembling Swiss cheese. Typically, Havarti is aged about three months. When the cheese is older it becomes more salty and has a slight hazelnut flavor. At room temperature the cheese will soften quickly. Hanne Nielsen is the enterprising cheesemaker credited with inventing Havarti in the mid 1800s. The wife of a New Zealand farmer, Nielsen became interested in the art of cheesemaking and so she traveled throughout Europe to learn techniques and trade secrets. Upon her return to Denmark, Nielsen experimented with her newly acquired knowledge, producing many cheeses. Her finest creation was an original washed curd cheese she named "Havarthi," after her farm. The Havarti you're receiving is a direct descendent of Nielsen's creation—produced and aged to perfection based on the original recipe. Havarti is often used in place of stronger cheeses like Gouda and Emmentaler, when the taste of cheese is desired without a strong flavor. The cheese comes in low fat versions as well as an enriched full cream type, which tends to melt in the mouth. Enriched Havarti can sometimes be intensely cloying, with the heavy creamy texture, and should be used sparingly or in a strong dish which is capable of handling the heavy flavor. As with most semi-soft cheeses, Havarti will keep for at least two weeks stored in the least cold section of the refrigerator (usually the vegetable drawer). Once opened, carefully re-wrap Havarti with aluminum foil, plastic wrap or better yet, parchment paper.
Havarti has a mild flavor similar to a Monterey Jack. Slightly acidic, the taste is buttery and ranges from somewhat sweet to very sweet. It often appears on sandwiches, in fondue and on salads. Its piquant flavor makes it a wonderful table cheese that is appreciated by the youngest of children and cheese connoisseurs alike. Havarti is often served with fruit and crackers and it pairs well with many wines. It's an extremely versatile cheese. Use it cubed in salads, melted in sauces, on potatoes or on hamburgers. And, it has the added value of marrying perfectly with a clean, crisp Danish pilsner! Consider the following for your Thanksgiving Day.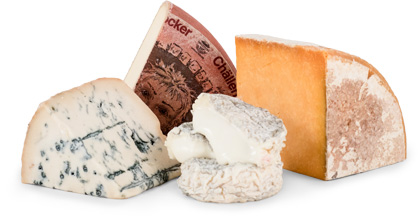 Experience International Variety
You might receive a Gaperon, originating in France during the 14th Century, an
authentic Lancashire by Ruth Kirkham, and an Italian Taleggio matured in the
caves of Valsassina…all in one shipment!
DISCOVER OUR TWO CLUBS