When you think of cheesemaking countries, Croatia may not be on your list, but it should be. Located in the Adriatic Sea on the island of Pag is the now famous Paška sirana cheese producer. Founded in 1946, Paška sirana started with a small core of sheep that are small, hearty, and can handle the harsh and rocky conditions of the island. Over the years, Paška sirana has had several types of organizational forms until 1992 when it became a public company. In 2008, they began construction of a new cheesemaking facility partially funded by EU pre-accession and SAPARD (Special Accession Programme for Agriculture and Rural Development) funds. Today, Paška sirana is one of the largest producers of sheep milk and continues to develop state of the art processing techniques for not only sheep and cow milk products, but also with the processing of sheep meat. There are no cows that live on the island of Pag, so their cow milk is sourced from the mainland and processed at the Paška sirana facility.
Paška sirana has won numerous awards over the years including Super Gold at the World Cheese awards for Dalmatinac in 2014, one of the cheeses you have in your shipment today. In 2017, Dalmatinac won Silver at the same awards along with numerous other awards in all the years in between. In fact, Culture cheese magazine, America's first and leading magazine devoted to cheese lovers, has put Dalmatinac on its list of the World's Best 50 Cheeses.
Dalmatinac is a semi-firm cheese made with a blend of 90% cow milk and 10% sheep milk. While buttery in flavor, this complex cheese also has notes of toasted nuts and herbal and salty notes from the grasses the sheep are fed on. This fairly versatile cheese can be served grated on salads or sliced in sandwiches, but our favorite way is on a cheese board with a variety of sweet fruits and cured meats. In Croatia, this cheese is typically served as an appetizer with cured meats such as prosciutto or kulen, which is a Slavonian spicy cured sausage. We also recommend pairing it with a bright, mineraly, white wine like a Sauvignon Blanc or, for you beer lovers, try a brown ale or lager.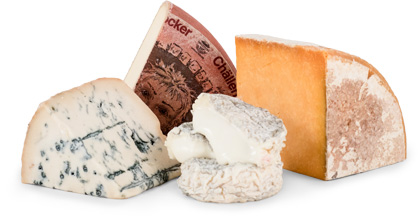 Experience International Variety
You might receive a Gaperon, originating in France during the 14th Century, an
authentic Lancashire by Ruth Kirkham, and an Italian Taleggio matured in the
caves of Valsassina…all in one shipment!
DISCOVER OUR TWO CLUBS