Cows Creamery was founded in 1983, originally making ice cream with an old-fashioned family recipe that originated in Cavendish, Prince Edward Island. As much as we love ice cream, we are so glad that the creamery diversified into making cheese in 2006. After a trip to the Orkney Islands in northern Scotland, owner Scott Linkletter was so impressed with the locally produced cheeses that he partnered with a local dairy to formulate the recipe that later evolved into their flagship cheese, Avonlea Clothbound Cheddar.
Made only with unpasteurized milk sourced from cows that graze on the lush grasses grown in iron-rich soils, and located adjacent to the sea on Canada's Prince Edward Island, Avonlea Cheddar is a highly accoladed cheese, earning no fewer than 12 national United States and Canadian awards from the American Cheese Society, Canadian Cheese Grand Prix, and World Cheese Awards, when it was awarded Super Gold and the World's Best Vintage Cheddar in 2015.
Avonlea Clothbound Cheddar is an English-style cheddar, cave aged between twelve and sixteen months. It showcases a traditional bandaged rind with a gorgeous mottled pattern dotted with specks of deep grey. We feel that the rind really influences the flavor of this cheese, that you can taste the sea's saline influence in every bite. You will taste powerful umami and mineral flavors contributed by the soils of the green, seaside pastures where the cows graze. This cheese has a complex sweet, nutty, and fruit-like tanginess that lingers pleasantly on the palate for quite some time. It pairs nicely with a sweet and spicy pineapple jalapeño jam. However, any fruit preserves or jams would complement the salty and savory flavors of this aged cheddar. As the Avonlea Clothbound Cheddar also has a bit of a toasted nut flavor, we like to serve it with Marcona almonds or spiced pecans. It also pairs well with traditional-method sparkling wines, aged reds from Italy (think nebbiolo or sangiovese), Spanish reds like tempranillo and garnacha, Bordeaux-style red blends, and contrasting-flavor, sweet wines like sherry or port. For beer lovers, choose strong stouts and ales.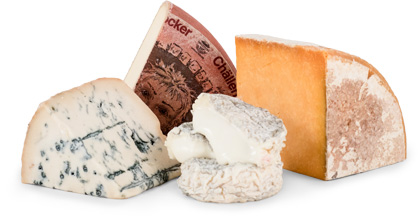 Experience International Variety
You might receive a Gaperon, originating in France during the 14th Century, an
authentic Lancashire by Ruth Kirkham, and an Italian Taleggio matured in the
caves of Valsassina…all in one shipment!
DISCOVER OUR TWO CLUBS