Founded in 1864 and located in the rolling hills of Vermont's Champlain Valley, Consider Bardwell Farm is a three-hundred acre, highly-awarded, pasture-based farm, dairy, and creamery producing artisanal raw cow and goat milk cheeses. The farm was originally built by Consider Stebbins Bardwell, founder of the first dairy cooperative in Vermont. Small local farmers sold their milk to Consider Bardwell Farm who then made the cheese and sold it as far away as New York City. Now, over 150 years later, Angela Miller and Russell Glover are maintaining the traditions of the original farm with the support of neighboring farm partners, Wayward Goose Farm and Indian River Farm. The modern-day Consider Bardwell is committed to sustainable farming practices, which means cows and goats graze on rotational schedules, fertilizing the soil and supporting indigenous varieties of grass. They proudly boast that they are Certified Animal Welfare Approved; the well-being and health of their animals remains a priority.
All of their cheeses begin with the best, freshest, sweet, and rich milk from animals that graze on organic, pesticide-free pastures, and this clean farming shows in the cheese quality, aromas, and flavors. Consider Bardwell is the recipient of no fewer than 19 American Cheese Society awards, three World Cheese Championship winners, three United States Cheese Championship awards and one World Jersey Cheese Championship award. All of the cheeses have natural rinds and are made with natural rennets, and some feature fun animal shapes that are pressed into the rinds. Consider Bardwell is the real deal when it comes to excellence in cheesemaking.
Consider Bardwell Pawlet is an Italian-style toma, named after the town of Pawlet, Vermont, which is famous for its slate, maple syrup, and timber industries. It is a semi-firm, washed rind cheese aged five months, and is unquestionably one of Consider Bardwell's most popular cheeses. It has a warm buttery-yellow, creamy paste and reveals lactic and herbaceous aromas. The flavors are mild, sweet, grassy, and a touch floral and nutty. Overall, we find it very balanced and savory. Pawlet is an appropriate table and snacking cheese that would pair nicely with sweet accompaniments like peaches and fruit compotes; savory options like nuts and sautéed greens; olives; and crackers. It is also a great melting cheese for pasta, risotto, omelets, grilled vegetables, grilled cheese sandwiches, and hamburgers. Consider Bardwell recommends eating Pawlet on toast with whole-grain mustard and pairing it with a wheat beer. We also suggest trying this cheese with hoppy-style beers, pinot noir, and even Scotch.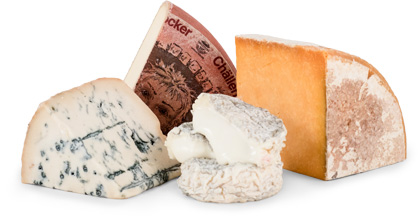 Experience International Variety
You might receive a Gaperon, originating in France during the 14th Century, an
authentic Lancashire by Ruth Kirkham, and an Italian Taleggio matured in the
caves of Valsassina…all in one shipment!
DISCOVER OUR TWO CLUBS