Carr Valley Cheese has been making cheese in Wisconsin for over a century and they've become one of the finest specialty cheese manufacturers in the States. Fourth-generation owner Sid Cook is one of just a few certified Master Cheesemakers in the U.S., a distinction awarded only to veteran Wisconsin cheese artisans who complete a rigorous fifteen-year training program. Not surprisingly, Carr Valley cheeses have won over 100 awards in international and U.S. cheese competitions in the past few years. Many of the cheeses are one of a kind—cheeses Sid calls "American Originals." They represent the "Carr doctrine": creating cheeses with a unique blend of Old World craftsmanship and New World innovation.
Pinconning is a yellow semi-hard style cheese with an open texture, which allows it to age quite well from mild to super sharp. It's made from whole cow's milk. Its name comes from the Michigan city of Pinconning, which today is designated "The Cheese Capital of Michigan" because it is the home of the now-famous Pinconning brand. It was first produced there in 1915 by a cheesemaker named Dan Horn, who decided to age Colby longer. Today, Pinconning cheese is produced in other places, mostly in Michigan and Wisconsin.
Pinconning's flavor and texture are unusual, rich and creamy with an open texture. This cheese is typically eaten instead of cheddar or Colby, and works well in macaroni and cheese or in omelets and soufflés. Other products made from Pinconning Cheese are cheese spreads in many flavors.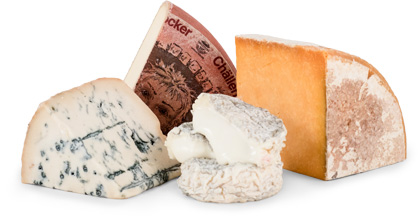 Experience International Variety
You might receive a Gaperon, originating in France during the 14th Century, an
authentic Lancashire by Ruth Kirkham, and an Italian Taleggio matured in the
caves of Valsassina…all in one shipment!
DISCOVER OUR TWO CLUBS