Carr Valley Cheese has been making cheese in Wisconsin for over a century and they've become one of the finest specialty cheese manufacturers in the States. Fourth-generation owner Sid Cook is one of just a few certified Master Cheesemakers in the U.S., a distinction awarded only to veteran Wisconsin cheese artisans who complete a rigorous fifteen-year training program. Not surprisingly, Carr Valley cheeses has won over 100 awards in international and U.S. cheese competitions in the past few years. Many of the cheeses are one of a kind—cheeses Sid calls "American Originals." They represent the "Carr doctrine": creating cheeses with a unique blend of Old World craftsmanship and New World innovation.
The award-winning Mobay cheese you have in your shipment today is Sid's unique take on the French classic cheese Morbier. Unlike Morbier which uses one type of milk (typically cow's milk), Mobay uses both pasteurized goat and sheep milks. Each half is created separately from one type of milk and cured for approximately four months, after which the two halves are pressed together, separated by a thin layer of grape vine ash that runs horizontally through the cheese, similar to Morbier. If you look closely, you can see the shade variation of the two halves – the bright white side is goat's milk and the ivory side is the sheep.
A semi-firm cheese, Mobay is rustic yet mild. On one side you have the bright and tangy side of the goat's milk, that is perfectly balanced out with the sweet and grassy side of the sheep's milk. Together they pair beautifully, offering an almost grape-like finish, but are also wonderful separate, which makes this cheese perfect for your cheese board due to the variety of flavor profiles. Try pairing it with a sweeter wine, such as a Chenin Blanc or Riesling, or try it with a Belgian style ale. As always, make sure the cheese is up to room temperature to ensure the full flavor of the cheese.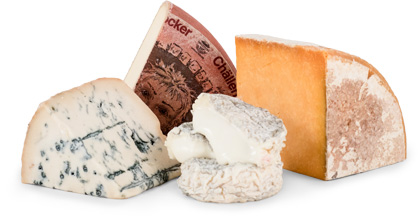 Experience International Variety
You might receive a Gaperon, originating in France during the 14th Century, an
authentic Lancashire by Ruth Kirkham, and an Italian Taleggio matured in the
caves of Valsassina…all in one shipment!
DISCOVER OUR TWO CLUBS