Carr Valley Cheese has been making cheese in Wisconsin for over a century and they've become one of the finest specialty cheese manufacturers in the States. Fourth-generation owner Sid Cook is one of just a few certified Master Cheesemakers in the U.S., a distinction awarded only to veteran Wisconsin cheese artisans who complete a rigorous fifteen-year training program. Not surprisingly, Carr Valley cheeses have won more than 80 awards in international and U.S. cheese competitions in the past three years alone, 18 of them thus far this year! Many of the cheeses are one of a kind—cheeses Sid calls "American Originals." They represent the "Carr doctrine": creating cheeses with a unique blend of Old World craftsmanship and New World innovation.
Winner of the prestigious 2014 American Cheese Society Competition in the American Originals Original Recipe category, Glacier Wildfire Blue is the essence of unique. It all starts with Carr Valley's Glacier Blue – which took 2nd Place in Rindless Blue-Veined Cheeses at the same competition – and is kicked up a notch by adding pepperoncino peppers, giving it a bit of firey heat!
A soft to semi-soft cheese, this 'hot' blue is mild to medium in heat but still has the creamy, crisp, and clean flavors of a regular blue that will melt in your mouth. Due to the heat, use this crumbly blue cheese to kick up traditional items a notch by adding it to salads, mac and cheese, sauces and dips, and even sweet fresh fruit like strawberries. This unique cheese is also great spread on a variety of crackers or slices of a baguette. It will also pair very well with wines like Viognier and Chardonnay and moderately hoppy beers like an American Pale Ale. As always, allow it to come up to room temperature before enjoying to get the full flavor.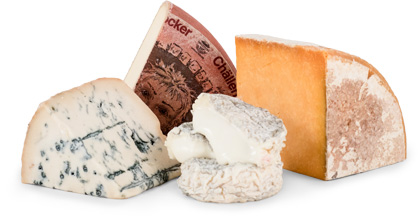 Experience International Variety
You might receive a Gaperon, originating in France during the 14th Century, an
authentic Lancashire by Ruth Kirkham, and an Italian Taleggio matured in the
caves of Valsassina…all in one shipment!
DISCOVER OUR TWO CLUBS